IN HIM WAS LIFE
DRAWING by DANIEL MITSUI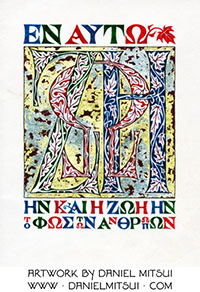 This is an ink drawing on a 4" × 5 1/3" piece of calfskin vellum. I drew it using calligraphers' inks applied with dip pens and brushes, and gold and palladium leaf.

The Greek text is from the beginning of the Gospel of St. John: In Him was life, and the life was the light of men.


---

An open-edition giclée print of this drawing is available for $20. You may use the button below to pay via PayPal, debit card or credit card. Be sure to confirm the shipping address.


Please note that the original drawing was made on calfskin vellum, which is not perfectly white, flat or homogenous. Natural variations in the color and thickness of the calfskin show up in the giclée print, especially in the outer borders. These are not smudges or printing errors, but part of the artwork itself.

See this page for additional ordering instructions and general information. If you want to pay via a check or money order, please e-mail me at danmitsui [at] hotmail [dot] com.