BLESSED VILLANA de' BOTTI
DRAWING by DANIEL MITSUI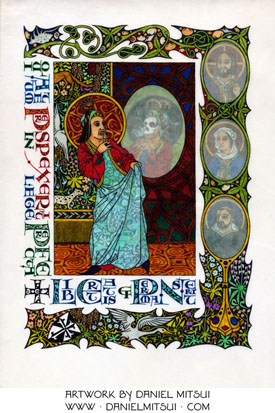 This is an ink drawing on a 5 1/2" × 7 3/4" piece of calfskin vellum. I drew it using calligraphers' inks applied with brushes and metal-tipped dip pens.

The original was created on private commission.

Blessed Villana de' Botti was born in Florence in the early 14th century. Desiring in her youth to enter a convent, she later married and fell into idle and worldly habits. Once, while dressing herself finely in preparation for an entertainment, she saw in her mirror the image of a demon, representing her state of sinfulness.

This inspired her to make confession, enter the Third Order of St. Dominic, and, while yet remaining married, devote the rest of her life to acts of piety and charity. She was gifted with visions, ecstacies and prophecies, and was venerated as a saint from the day of her death.

Here, I illustrated the moment of Villana's conversion; she wears an extravagant headdress and a sleeveless surcoat and gown decorated in a millefleur pattern, and jewelery. Her room is decorated with Gothic tracery, floor tiles with a spiral pattern and a tapestry. The demon in the mirror is composed of various absurdly arranged human, plant and animal forms.

In the border, three other mirrors show Jesus Christ, the Blessed Virgin Mary and St. Dominic, whose virtues Villana reflected through the end of her life. The rest of the border is filled with ornament based on medieval manuscripts and tapestries, and included the arms of the Order of Preachers. The inscription is from the Epistle of St. James, which in its context describes Blessed Villana:
For if a man be a hearer of the word, and not a doer, he shall be compared to a man beholding his own countenance in a glass. For he beheld himself, and went his way, and presently forgot what manner of man he was. But he that hath looked into the perfect law of liberty, and hath continued therein, not becoming a forgetful hearer, but a doer of the work; this man shall be blessed in his deed.
---

An open-edition giclée print of this drawing is available for $40. You may use the button below to pay via PayPal, debit card or credit card. Be sure to confirm the shipping address.


Please note that the original drawing was made on calfskin vellum, which is not perfectly white, flat or homogenous. Natural variations in the color and thickness of the calfskin show up in the giclée print, especially in the outer borders. These are not smudges or printing errors, but part of the artwork itself.

See this page for additional ordering instructions and general information. If you want to pay via a check or money order, please e-mail me at danmitsui [at] hotmail [dot] com.