TONSURE of ST. PETER
DRAWING by DANIEL MITSUI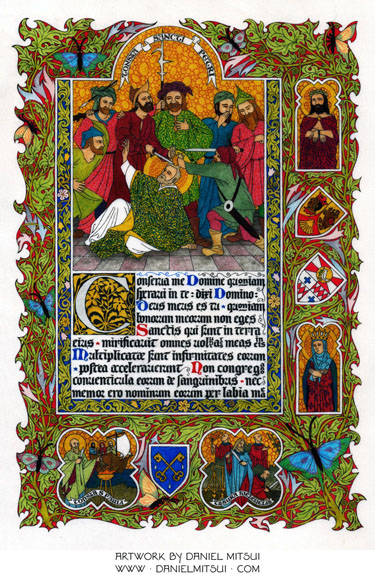 This is an ink drawing on a 7 1/2" × 11" piece of goatskin parchment made using fine-tipped pens and calligraphers' inks applied with brushes.

The original was created on private commission.

It depicts an event described in the Golden Legend in which the pagans of Antioch mocked St. Peter by forcibly shaving the top of his head. Followers of St. Peter shaved their heads in imitation, turning a mark of shame into a mark of honor and originating the tradition of clerical tonsure. Surrounding this central scene are several events associated with tonsure in mediaeval exegetical texts: St. Paul cutting off his hair at Cenchrea; Ezekiel shearing, dividing, burning, chopping and scattering his hair to prophecy the destruction of Jerusalem; and Christ wearing the Crown of Thorns.

It was commissioned to commemorate the tonsuring of a class of seminarians of the Priestly Fraternity of St. Peter this past October. A signed, framed giclée print of the drawing was gifted from the class to Bishop Fabian Bruskewitz, who celebrated the ceremony.


---

An open-edition giclée print of this drawing is available for $77. You may use the button below to pay via PayPal, debit card or credit card. Be sure to confirm the shipping address.


Please note that the original drawing was made on calfskin vellum, which is not perfectly white, flat or homogenous. Natural variations in the color and thickness of the calfskin show up in the giclée print, especially in the outer borders. These are not smudges or printing errors, but part of the artwork itself.

See this page for additional ordering instructions and general information. If you want to pay via a check or money order, please e-mail me at danmitsui [at] hotmail [dot] com.