MARTYRDOM of ST. THOMAS MORE
DRAWING by DANIEL MITSUI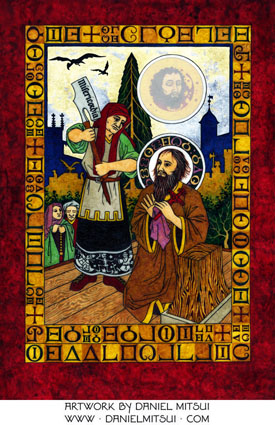 St. Thomas More was an intellectual and statesman who served as Lord Chancellor of England under Henry VIII. He was beheaded in 1535 for refusing to take an oath of supremacy that declared the King to be the head of the English Church, without qualification, and for maintaning the illegitemacy of Henry's marriage to Anne Boleyn.

The personal appearance of Thomas More is well-known from the masterful portraits of Hans Holbein the Younger. Here, I was faced with the challenge of presenting a recognizable visage under circumstances very different from his portrait sittings. The saint is here considerably older, stripped of his insignia and haggard from his long imprisonment. It is known from primary accounts that at the time of his execution, he had a long beard, that he placed over the chopping block so that it would not be cut by the executioner's ax.

Here, I wanted to draw a parallel between this martyr and two others. One is an earlier Thomas, killed by an earlier King Henry for maintaining the rights and privileges of the English Church: St. Thomas of Canterbury. I composed my drawing similiarly to the panel painting of the Martyrdom of St. Thomas of Canterbury by Master Francke. The executioner wears the same turban as the assassin in Master Francke's work.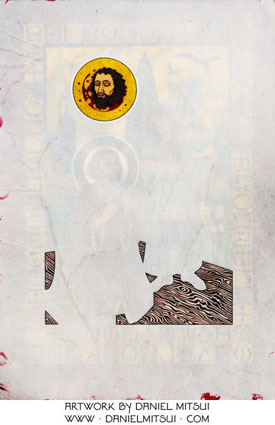 The other is John the Baptist, who likewise was beheaded by a king for objecting to his adultery. The severed head St. John on a platter appears in a roundel above Thomas More in my drawing; I drew this on the reverse side of the translucent calfskin, so it appears only faintly unless held up to a light.

St. Thomas More was the author of Utopia, a satirical account of a fictional society. More, or possibly his friend Peter Giles, invented a language and alphabet used by its members. The letters and a short poem in Utopian appear in an addendum to the book written by Giles. In this drawing, I wrote two inscriptions transliterated into the Utopian alphabet. One is Amen Alleluia, on the martyr's halo.

The other runs around the border of the drawing; this is a portion of a Latin sequence written by Adam of St. Victor in honor of St. Thomas of Canterbury. Its words apply also to St. Thomas More:



Cum mori non timuit,
Sed cervicem prebuit
In suo sanguine;
Ut abhinc exivit,
Semel introivit
In sancta Sanctorum.



This is an English translation by Digby S. Wrangham:



Since of death he fealt no dread,
But surrendered up his head
To welter in his blood,
Whence he hence was driven
God to highest heaven
Did at once admit him.





Medium: Drawing, color ink on calfskin vellum
Dimensions: 5 1/2" × 8"
Year: 2017

The original drawing was made on private commission.


---

An open-edition giclée print of this drawing is available for $41. You may use the button below to pay via PayPal, debit card or credit card. Be sure to confirm the shipping address.

These giclée print is on opaque paper, printed on one side only. The effect of the translucent calfskin is only apparent on the original drawing.


See this page for additional ordering instructions and general information. If you want to pay via a check or money order, please e-mail me at danielmitsuiartist at gmail dot com.