ST. SEBASTIAN
DRAWING by DANIEL MITSUI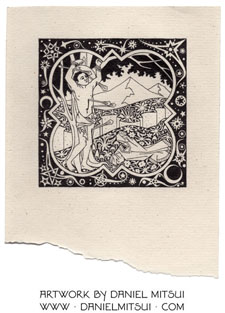 This 3 1/2" × 5 1/2" print is based on a picture I drew in ink on calfskin. It depicts St. Sebastian, a 3rd-century martyr. While an officer in the Roman army, he encouraged persecuted Christians to maintain their faith, won converts through miraculous cures, and destroyed more than 200 pagan idols. In retribution, the Emperor Diocletian ordered him shot full of arrows; St. Sebastian survived, but then was beaten to death.

I modified the colors and ornament when creating the print file (which is shown on this page); those on the original drawing are different.


---

An open-edition giclée print is available for $18. You may use the button below to pay via PayPal, debit card or credit card. Be sure to confirm the shipping address.


See this page for additional ordering instructions and general information. If you want to pay via a check or money order, please e-mail me at danmitsui [at] hotmail [dot] com.