OUR LADY of SEATTLE
DRAWING by DANIEL MITSUI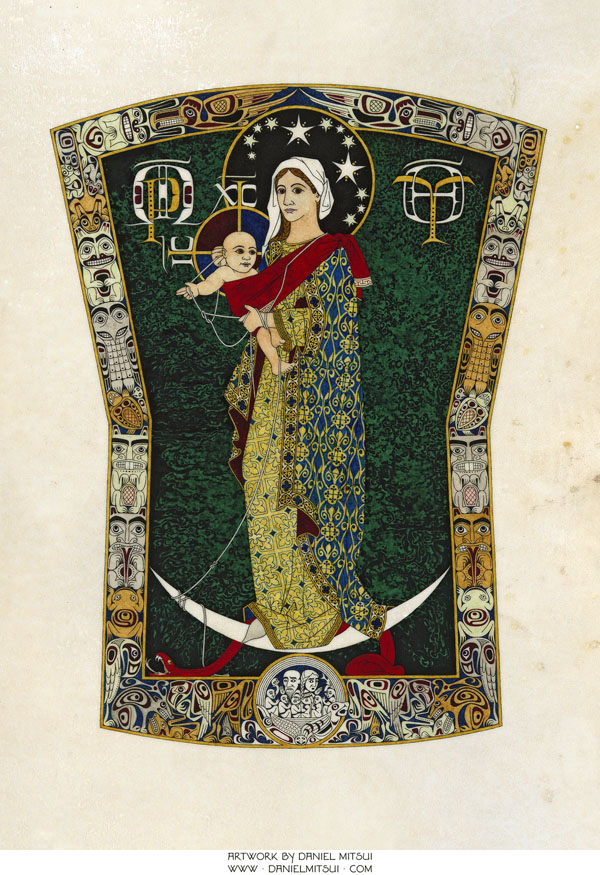 This drawing was commissioned by a church near Seattle. In it, I combined iconographic elements from the Immaculate Conception and Our Lady, Undoer of Knots with decorative elements from the art of the Native Americans of the Pacific Northwest.

Its shape suggests a copper shield. In the border, pairs of animals approach Noah's Ark. This is a reference to Chief Seattle, who took the baptismal name Noah. The Ark I based on a Tlingit bone carving of a spirit canoe.

The figure of Mary is dressed similar to a statue in the church, but carrying the Christ Child in a sling. She stands on a crescent moon, a snake underfoot, with twelve stars about her head. The Greek nomina sacra inscriptions are abbreviations for Jesus Christ and Mother of God.



Medium: Drawing, color ink on deerskin parchment
Dimensions: 12" × 17"
Year: 2019

The original drawing was made on private commission.


---

An open-edition giclée print of this drawing is available for $191. You may use the button below to pay via PayPal, debit card or credit card. Be sure to confirm the shipping address.


See this page for additional ordering instructions and general information. If you want to pay via a check or money order, please e-mail me at danielmitsuiartist at gmail dot com.