OUR LADY of HOPE (NOTRE DAME de PONTMAIN)
DRAWING by DANIEL MITSUI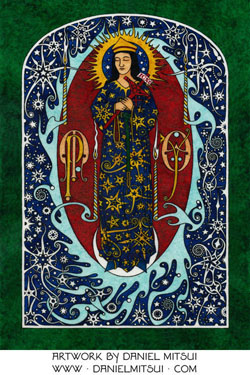 Our Lady of Hope appeared in the sky to four children at Pontmain, in France, on the evening of 17 January 1871. The Blessed Virgin Mary here wore a blue gown that gathered into it the surrounding stars; a black veil; blue slipers with golden bows; and a golden diadem with a red band. A blue oval with four candles formed around her, and a red cross appeared over her heart. She appeared at first joyful, then sad as she contemplated a red crucifix in her hands.

My artistic intention was to connect this recent apparition to the older medieval iconography of the Blessed Virgin Mary: the Woman of the Apocalypse, the Immaculate Conception and the Virgin of Parturition. She has a solar halo with twelve stars, and a crescent moon beneath her feet. The ΜΡ ΘΥ inscription is the Greek nomina sacra for the Mother of God that appears in traditional icons. I did my best to depict the stars as dynamic, varied and interesting.



Medium: Drawing, color ink on calfskin vellum
Dimensions: 5" × 7"
Year: 2018

The original drawing was made on private commission.


---

An open-edition giclée print of this drawing is available for $35. You may use the button below to pay via PayPal, debit card or credit card. Be sure to confirm the shipping address.


See this page for additional ordering instructions and general information. If you want to pay via a check or money order, please e-mail me at danielmitsuiartist at gmail dot com.