PRESENTATION in the TEMPLE
DRAWING by DANIEL MITSUI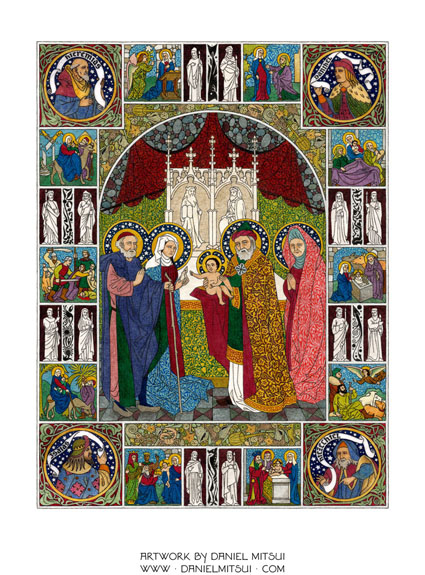 This is an ink drawing on an 8 1/2" × 11" piece of Bristol board. I drew it using fine-tipped pens and calligraphers' inks applied with brushes.

Vox Clara is a Vatican committee of senior bishops from episcopal conferences throughout the English-speaking world that advises the Holy See on English-language liturgy. In 2012, the committee published an interim edition of the Roman Pontifical, including new translations of certain texts drawn from the revised Roman Missal. I was commissioned to create a series of five color illustrations for this book, including this one of the Presentation of Christ in the Temple.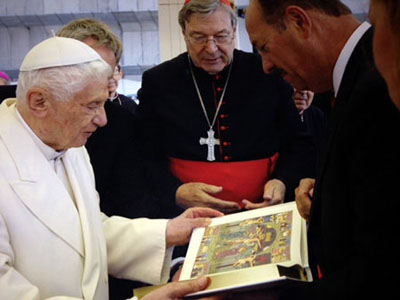 In this drawing, Simeon holds the Christ Child; St. Joseph, the Blessed Virgin (who holds the sacrificial doves) and the prophetess Anna stand nearby. The altar has images of Moses and Elijah on it, representing the Law and the Prophets.

In the border are drawn twelve patriarchs and ten scenes from the infancy of Christ: the Annunciation, the Visitation, the Nativity of St. John the Baptist, the Nativity of Christ, the Annunciation to the Shepherds, the Circumcision of Christ, the Adoration of the Magi, the Flight into Egypt, the Massacre of the Innocents and the Fall of the Idols of Hermopolis.The four Major Prophets (Jeremiah, Daniel, Isaiah and Ezekiel) appear in the corners.

15th century panel paintings, tapestries and prints heavily influenced this drawing. Specific artists whose work I studied when drawing it include Johann Koerbecke and Martin Schongauer.

The original drawing included liturgical scenes specific to the Roman Pontifical; the Major Prophets were drawn on separate pieces of vellum and edited into the print file in their places.


---

An open-edition giclée print of this drawing is available for $88. You may use the button below to pay via PayPal, debit card or credit card. Be sure to confirm the shipping address.


This drawing is part of a set of five (along with Crucifixion, High Priest, Last Supper and Pentecost. If you order the full set at once, the fifth print is free.


See this page for additional ordering instructions and general information. If you want to pay via a check or money order, please e-mail me at danmitsui [at] hotmail [dot] com.