LAST SUPPER
DRAWING by DANIEL MITSUI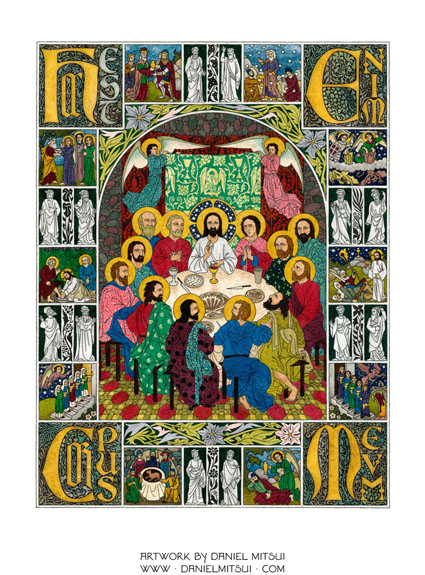 This is an ink drawing on an 8 1/2" × 11" piece of Bristol board. I drew it using fine-tipped pens and calligraphers' inks applied with brushes.

Vox Clara is a Vatican committee of senior bishops from episcopal conferences throughout the English-speaking world that advises the Holy See on English-language liturgy. In 2012, the committee published an interim edition of the Roman Pontifical, including new translations of certain texts drawn from the revised Roman Missal. I was commissioned to create a series of five color illustrations for this book, including this one of the Last Supper.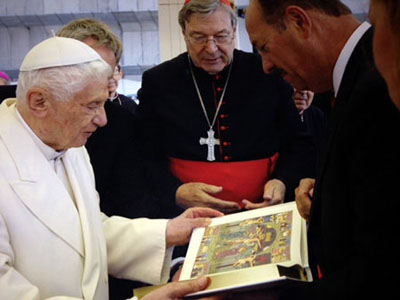 I drew Christ at table with His Apostles, blessing bread and wine. Judas Iscariot is the one Apostle without a halo. Two angels hold a patterned backdrop with eucharistic symbols on it: chalices, grapevines and pelicans in their piety.

In the border, above and below the central image, appear four Old Testament prefigurements of the Last Supper: the Sacrifice of Melchizedek, the fall of Manna in the desert, the Paschal Lamb and Elijah fed by an angel. In the left border Christ is shown washing his apostles' feet; above this is its prefigurement, the Hospitality of Abraham. In the right, Christ is shown in Gethsemani, with the men sent to arrest him falling down. This is prefigured by the Fall of the Rebel Angels. Below these scenes the Parable of the Wise and Foolish Virgins is illustrated. Between these scenes are twelve prophets. In the corners, the words Hoc est enim Corpus Meum are written in stylized letters, surrounded by a millefleur pattern.

15th century panel paintings, tapestries and prints influenced this drawing. Artists whose work I studied when drawing it include Dieric Bouts and I.A.M. of Zwolle.

The original drawing included liturgical scenes specific to the Roman Pontifical; the words Hoc est enim Corpus Meum were drawn on separate pieces of vellum and edited into the print file in their places.


---

An open-edition giclée print of this drawing is available for $88. You may use the button below to pay via PayPal, debit card or credit card. Be sure to confirm the shipping address.


This drawing is part of a set of five (along with Crucifixion, High Priest, Pentecost and Presentation. If you order the full set at once, the fifth print is free.


See this page for additional ordering instructions and general information. If you want to pay via a check or money order, please e-mail me at danmitsui [at] hotmail [dot] com.