ST. PHILIP NERI
DRAWING by DANIEL MITSUI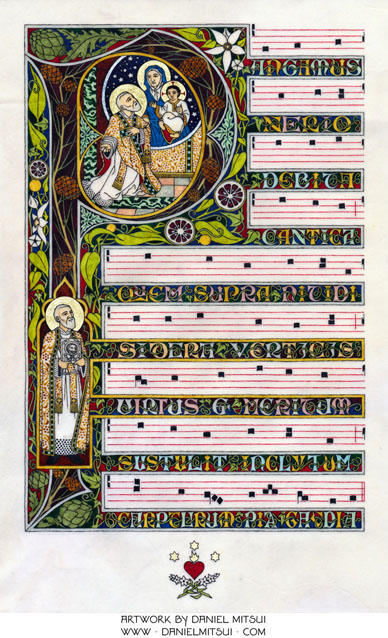 This is an ink drawing on a 7 3/4" × 12 1/4" piece of calfskin vellum. I drew it using calligraphers' inks applied with brushes and metal-tipped dip pens, and gold and palladium leaf.

The original was created on private commission.

St. Philip Neri was a priest of the 16th century. He was a native Florentine, but was most famous for his work in Rome, where he founded the Congregation of the Oratory. He was renowned for his piety, joyfulness and good humor.

The general composition of the picture is influenced by illuminated choir books from Florence, although the ornament is based on plants especially associated with Rome: stone pine, blood orange and artichoke.

There is a large inital letter P that dominates the page; inside it I drew the Blessed Virgin Mary's appearance to St. Philip in 1594. In the P's downstroke I drew St. Philip, holding an alabaster tablet of St. John the Baptist's head. This refers to an earlier vision, one of St. John the Baptist that St. Philip saw in 1550. (Also, I was once told that a Nottinghamshire alabaster of St. John's head is in the collections of the Oratory in Rome; this was one discovered in the belongings of one of the defeated Turks after the Battle of Lepanto. How or why the Turk came to own it God only knows.)

My drawing includes also the words and chant neumes of the first verse of the hymn Pangamus Nerio.


---

An open-edition giclée print of this drawing is available for $88. You may use the button below to pay via PayPal, debit card or credit card. Be sure to confirm the shipping address.


Please note that the original drawing was made on calfskin vellum, which is not perfectly white, flat or homogenous. Natural variations in the color and thickness of the calfskin show up in the giclée print, especially in the outer borders. These are not smudges or printing errors, but part of the artwork itself.

See this page for additional ordering instructions and general information. If you want to pay via a check or money order, please e-mail me at danmitsui [at] hotmail [dot] com.