ST. PATRICK
DRAWING by DANIEL MITSUI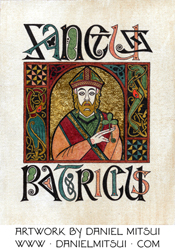 This is an ink drawing on a 3 1/2" × 4 1/2" piece of Bristol board. I drew it using fine-tipped pens; calligraphers' inks applied with brushes; and 23k gold leaf.

The original has been sold.

St. Patrick is drawn in the style of 6-9th century Northumbro-Irish art, surrounded by decorative knotwork, lacertine animals, geometric patterns and rune-like lettering. He wears a mitre and holds a cloverleaf representing the Holy Trinity. The lettering reads Sanctus Patricius (St. Patrick).


---

An open-edition giclée print of this drawing is available for $15. You may use the button below to pay via PayPal, debit card or credit card. Be sure to confirm the shipping address.


See this page for additional ordering instructions and general information. If you want to pay via a check or money order, please e-mail me at danmitsui [at] hotmail [dot] com.