NON NOBIS
DRAWING by DANIEL MITSUI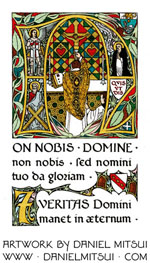 This is an ink drawing on a 3" × 4 3/4" piece of Bristol board. I drew it using technical pens and calligraphers' inks applied with dip pens and brushes.

The original was created on private commission, to commemorate the ordination of a priest.

The format is that of a large historiated initial N, followed by the two short passages from the Psalms, arranged in the manner of an illuminated manuscript. The central image shows a priest celebrating Mass, using the ordinand's chalice and chasuble. The altar frontal and walls of the chapel are meant to invoke the artwork of the English Gothic Revival; emblems of the Sacred and Immaculate Hearts are included there.

Within the large initial N I drew St. Michael and St. Andrew, with their respective attributed arms in the lower right portion. St. Thomas Aquinas appears kneeling, with a few words from the Pange Lingua written on a banderole. This serves to identify him (the author of the hymn), and to refer to the Precious Blood being elevated in the central image. Pius X and Cardinal Merry del Val are represented by their coats of arms; the brown scapular also appears in the ornament. All of these saints and devotions have particular significance for the patron.


---

An open-edition giclée print of this drawing is available for $13. You may use the button below to pay via PayPal, debit card or credit card. Be sure to confirm the shipping address.


See this page for additional ordering instructions and general information. If you want to pay via a check or money order, please e-mail me at danmitsui [at] hotmail [dot] com.