NATIVITY of JESUS CHRIST
DRAWING by DANIEL MITSUI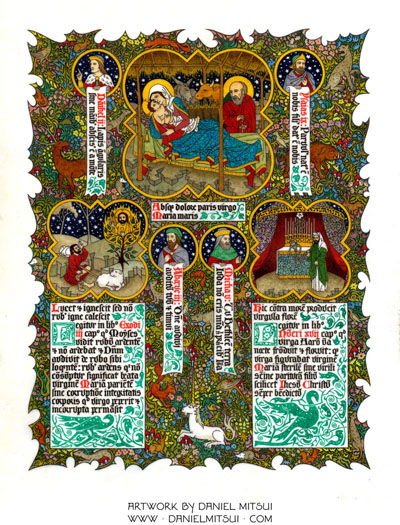 This depicts the Nativity of Jesus Christ, formatted as a page from a Biblia Pauperum.

The Biblia Pauperum is collection of illustrated typologies that circulated in illuminated manuscripts and in blockbooks during the late Middle Ages. Each page of the book shows a particular event from the life of Christ, juxtaposed with two events from the Old Testament prefiguring it. The pictures are paired with rhymed Latin versicles and short explanations. Four prophets are also included, each holding a banderole with his prophecy of the event.

For the Nativity of Our Lord, the two prefigurements are Moses before the Burning Bush and the Flowering of Aaron's Rod. The text, translated, reads:
Without pain thou givest birth, Virgin Mary (Star) of the Sea.

It glows and kindles, but the bush is not burned by fire.

We read in the Book of Exodus, chapter 3, that Moses saw a bush burning, and it did not burn up, and he heard the Lord speaking to him from the bush. The burning bush which is not consumed figures the Blessed Virgin Mary giving birth without corruption of her bodily integrity, because a virgin she gave birth and remained uncorrupted.

This is contrary to custom: a little rod bears a flower.

We read in the Book of Numbers, chapter 17, that the rod of Aaron one night leafed and bore blossoms, which rod figured the pure Virgin Mary who was to give birth without male seed to a Son, that is, Jesus Christ ever Blessed.
The prophecies are as follow:
Daniel: A cornerstone was cut out of a mountain without hands.

Isaiah: A child is born unto us, and a son is given to us.

Habacuc: O Lord, I have heard Thy hearing and was afraid.

Micah: Thou Bethlehem the land of Juda shall not be the least among the princes of Juda.
The imagery was inspired by various books, tapestries and paintings of the late Middle Ages, most obviously the Nativity panel from the 14th century Vyssi Brod altarpiece. The background ornament is composed of tiny plants and animals, resembling a millefleur tapestry.



Medium: Drawing, color ink on calfskin vellum
Dimensions: 8" × 10"
Year: 2015

The original drawing has been sold.


---

An open-edition giclée print of this drawing is available for $75. You may use the button below to pay via PayPal, debit card or credit card. Be sure to confirm the shipping address.


See this page for additional ordering instructions and general information. If you want to pay via a check or money order, please e-mail me at danielmitsuiartist at gmail dot com.