OUR LADY of PERPETUAL HELP
DRAWING by DANIEL MITSUI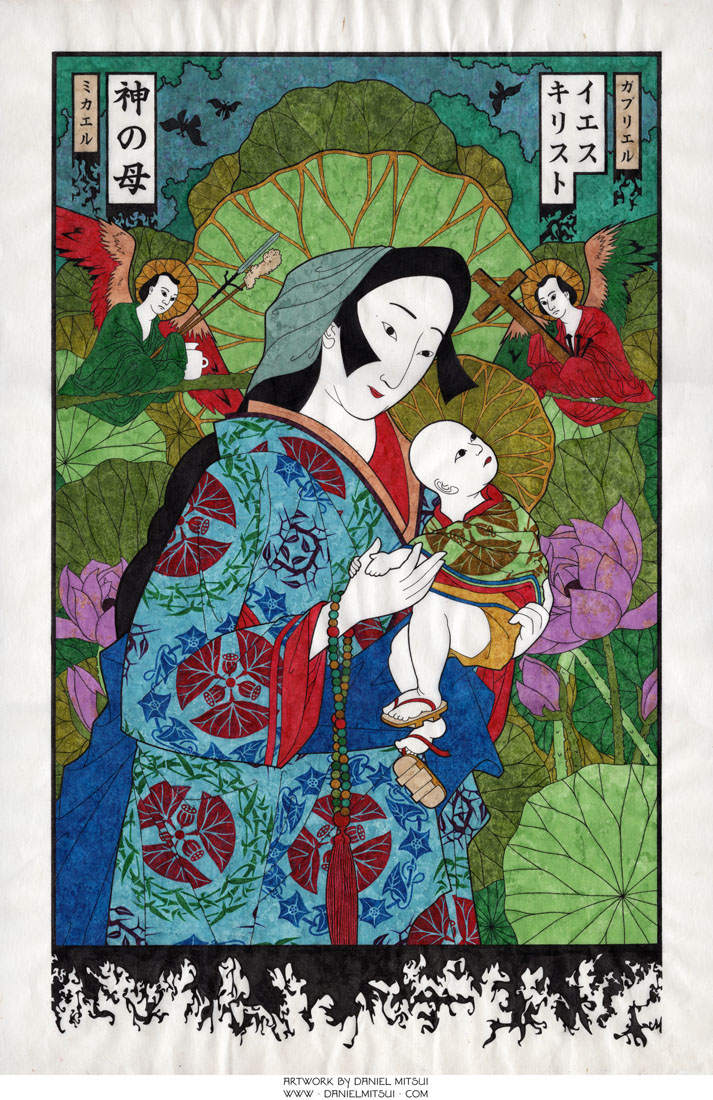 This is one of several drawings I have made depicting Christian religious subjects in the style of traditional Japanese art. It depicts the Blessed Virgin Mary and the Infant Jesus and contains the traditional elements of an icon of Our Lady of Perpetual Help: the infant Christ, frightened by a vision of the archangels Michael and Gabriel holding the instruments of the Passion, climbs into his consoling mother's arms, as one of his shoes falls from his foot.

I referenced several 19th century Japanese prints for this drawing, but one in particular was an especially strong influence: Chujo-hime and the Spirit of Her Wicked Stepmother by Yoshitoshi. I wanted to be sure not to use as the model for the Blessed Virgin any woman with inappropriate associations, so I searched for prints of women famous for their virtue and chastity.

Chujo-hime was a nobly-born girl who was mistreated by her stepmother, who was roused to jealousy by her stepdaughter's continuous prayers for her dead mother's soul. Chujo-hime later became a Buddhist nun, and gained renown for her skill at embroidery (she made a famous Lotus Thread Mandala at Taimadera Temple). When I saw this print, I noticed many symbols that would, in a Western context, be associated with the Blessed Virgin: the underfoot snake, the vase of white flowers, the prayer beads. It seemed to me to be an especially fitting model for my own drawing of Our Lady of Perpetual Help. From Yoshitosi's print, I also got the idea of making the haloes in the form of lotus leaves.



Medium: Drawing, color ink on Bristol board with gold leaf
Dimensions: 9" × 12"
Year: 2012

The original drawing was made on private commission.


---

An open-edition giclée print of this drawing is available for $101. You may use the button below to pay via PayPal, debit card or credit card. Be sure to confirm the shipping address.


See this page for additional ordering instructions and general information. If you want to pay via a check or money order, please e-mail me at danielmitsuiartist at gmail dot com.