ST. IGNATIUS of ANTIOCH
DRAWING by DANIEL MITSUI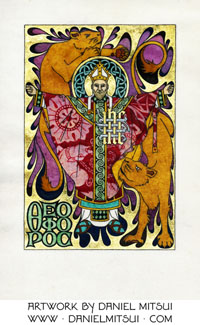 This is an ink drawing on a 4" × 6" piece of calfskin vellum. I drew it using calligraphers' inks applied with dip pens and brushes, and palladium and 23k gold leaf.

The original was created on private commission.

St. Ignatius was a disciple of St. John the Apostle, a bishop of Antioch. He authored seven letters that are among the earliest surviving patristic writings. He died a martyr under Trajan. While being tortured, he repeatedly called upon Jesus Christ, telling his tormentors that he could not stop invoking a name that was written upon his heart.

He was then thrown to savage beasts in the Roman arena; the emperor's purpose was to see the saint devoured so that no relics of his body might remain. However, the two lions that leapt upon the saint would not bite or tear his flesh; he died rather by being smothered by their bodies.

When his heart was later removed from his dead body, the name of Jesus Christ was indeed found written on it in gold letters.

Traditional Greek icons of St. Ignatius confer on him the title Theophoros, or God-bearer. They depict him vested as a bishop, with two lions facing in opposite directions. I here have followed these traditions, but have chosen to depict episcopal vestments of the Latin rite rather than the Greek. An interlocking blackletter monogram of the holy name IHS XPS appears over the martyr's heart, and flames surround the entire picture, referring to the etymological link between fire and the name Ignatius.


---

An open-edition giclée print of this drawing is available for $23. You may use the button below to pay via PayPal, debit card or credit card. Be sure to confirm the shipping address.


Please note that the original drawing was made on calfskin vellum, which is not perfectly white, flat or homogenous. Natural variations in the color and thickness of the calfskin show up in the giclée print, especially in the outer borders. These are not smudges or printing errors, but part of the artwork itself.

See this page for additional ordering instructions and general information. If you want to pay via a check or money order, please e-mail me at danmitsui [at] hotmail [dot] com.