ST. HUGH of LINCOLN
DRAWING by DANIEL MITSUI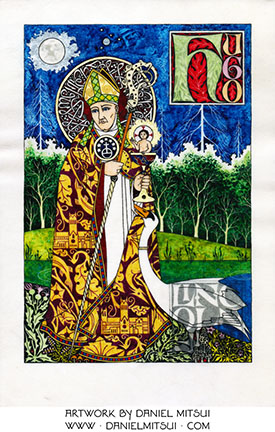 St. Hugh of Lincoln was a 12th-century Carthusian hermit who became the Bishop of Lincoln. He oversaw the rebuilding of the city's cathedral choir after an earthquake in 1185; the result is some of the most beautiful Gothic architecture in England. He appears in medieval art holding a crosier and a chalice in which the Christ Child sits, with a swan nearby. This swan befriended the bishop, ate from his hand and guarded him while he slept.

In my drawing, the Carthusian order is indicated by the habit under his cope and the emblem on its morse. The damask pattern is my own design - it includes fish, birds, plants and miniatures of Lincoln Cathedral.

St. Hugh's halo is similar to ones that I have seen in 15th century Italian paintings that copy the designs of Egyptian gold platters. The writing resembles Arabic, but is not; it actually spells the words Amen and Alleluia three times each. The crosier is an adventurous design, with an ivory newt forming the head and a unicorn horn for the shaft and foot. Newts are something that I use as a symbol of the clergy, as the Bestiary describes them as enemies of the scorpion, a symbol of the devil and his servants. Unicorns are Christological symbols, and their horns purify poisoned water.

I set the picture near a lake at evening. I took advantage of the unique properties of calfskin and applied ink in certain areas using natural sponges, or pressed the wet ink with glass paper to form decalcomania textures. I then used a knife to etch away additional details into the inked surface; the tree trunks, leaf veins and water ripples I formed this way.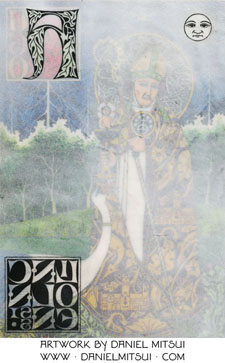 I also used the calfskin's translucency for artistic effect, drawing certain details on the opposite side of the sheet, in reverse. These are a face in the moon, decorative leaves in the capital H of Hugo, and the word Lincolnensis. Like watermarks, these are more visible when the drawing is held up to a light. The original drawing thus has a different character depending on where and when it is seen.



Medium: Drawing, color ink on calfskin vellum with gold and palladium leaf
Dimensions: 5 1/2" × 8 1/8"
Year: 2016

The original drawing was made on private commission.


---

An open-edition giclée print of this drawing is available for $42. You may use the button below to pay via PayPal, debit card or credit card. Be sure to confirm the shipping address.

These giclée print is on opaque paper, printed on one side only. The effect of the translucent calfskin is only apparent on the original drawing.


See this page for additional ordering instructions and general information. If you want to pay via a check or money order, please e-mail me at danielmitsuiartist at gmail dot com.