MASS of ST. GREGORY
DRAWING by DANIEL MITSUI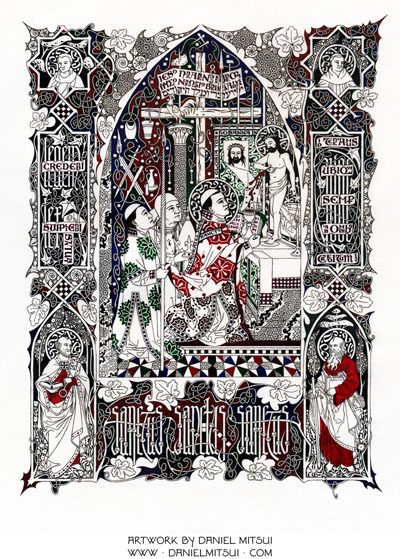 The Mass of St. Gregory was a miraculous vision of Christ surrounded by the instruments of His Passion experienced by the great Church Father. Medieval depictions of this event vary; my own composition I based on several 15th century panel paintings.

St. Gregory is celebrating Mass, assisted by a deacon who holds an elevation torch and a cardinal who holds the papal crown. Christ appears standing on the paten, having stepped from the background tomb, shedding blood from the wound in His side into the chalice. I chose this arrangement to emphasize the connections between the Man of Sorrows, the Resurrection and the Holy Eucharist.

The instruments of the Passion appear in the background; these include Judas's purse and the thirty pieces of silver; clubs, swords, torches and ropes; Pontius Pilate's ewer, bowl and towel; the crowing cock; the pillar and scourges; St. Veronica's veil; the cross and titulus; the hammer, pincers and nails; the dice cast for Christ's garment; the bucket of vinegar and the sponge; the lance and the ladder.

In the bottom corners, I drew Ss. Peter and Paul, loosely basing the figures on engravings by the Master ES and by Martin Schongauer. In the upper corners I drew Ss. Prosper of Aquitaine and Vincent of Lerins. These two Church Fathers were theological opponents (as were Ss. Peter and Paul at times), but they together helped to articulate the Catholic Church's theology of tradition. In the spaces below them, I wrote two famous maxims from their writings, placing certain words on banderoles and writing others in a tall blackletter script.

The Latin words below St. Prosper translate to The Law of Worship establishes the Law of Belief. Those below St. Vincent mean We hold to what has been believed everywhere, always and by all. In the same blackletter script, I wrote in the bas-de-page sanctus sanctus sanctus.

Throughout the drawing appears ornament based on vines with knotted tendrils, seashells, fossiliferous marble, oriental damask, pseudo-Kufic and millefleur.



Medium: Drawing, black, red, blue, green, purple and brown ink on calfskin vellum
Dimensions: 8" × 10 2/3"
Year: 2015

The original drawing was made on private commission.


---

An open-edition giclée print of this drawing is available for $80. You may use the button below to pay via PayPal, debit card or credit card. Be sure to confirm the shipping address.


See this page for additional ordering instructions and general information. If you want to pay via a check or money order, please e-mail me at danielmitsuiartist at gmail dot com.