ST. GOBNAIT
DRAWING by DANIEL MITSUI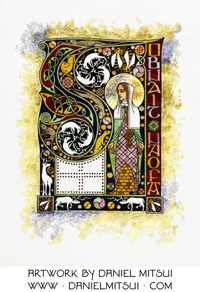 St. Gobnait was an Irish abbess of the sixth century. She founded her abbey on a spot revealed to her by the miraculous presence of nine white deer. She is the patron saint of beekeeping; the bees kept by her nuns once saved the abbey by attacking a band of marauders. I included nine white deer, four honeybees and a hive in this drawing.

I drew mostly in the style of early medieval Gospel manuscripts from Ireland. I also borrowed some details from Harry Clarke's depictons of this saint. The idea of placing the cats within the capital letter I got from Utagawa Kuniyoshi, a Japanese artist who used cats to spell out words in a series of ukiyo-e.



Medium: Drawing, color ink on calfskin vellum with gold and palladium leaf
Dimensions: 4" × 5 1/3"
Year: 2015

The original drawing was made on private commission.


---

An open-edition giclée print of this drawing is available for $20. You may use the button below to pay via PayPal, debit card or credit card. Be sure to confirm the shipping address.

The original drawing included a personal inscription and other details specific to the patron; certain decorations I drew separately and edited into the print (shown above) in their places.


See this page for additional ordering instructions and general information. If you want to pay via a check or money order, please e-mail me at danielmitsuiartist at gmail dot com.