ST. GOBNAIT
DRAWING by DANIEL MITSUI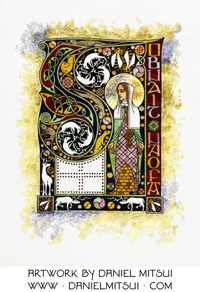 This is an ink drawing on a 4" × 5 1/3" piece of calfskin vellum. I drew it using fine-tipped pens; calligraphers' inks applied with brushes; and palladium and 23k gold leaf. The original was created on private commission.

St. Gobnait was an Irish abbess of the sixth century. She founded her abbey on a spot revealed to her by the miraculous presence of nine white deer. She is the patron saint of beekeeping; the bees kept by her nuns once saved the abbey by attacking a band of marauders. I included nine white deer, four honeybees and a hive in this drawing.

I drew mostly in the style of early medieval Gospel manuscripts from Ireland. I also borrowed some details from Harry Clarke's depictons of this saint. The idea of placing the cats within the capital letter I got from Utagawa Kuniyoshi, a Japanese artist who used cats to spell out words in a series of ukiyo-e.

The original drawing included a personal inscription and some emblems specific to the patron. I edited decorations into the print file in their places. The print file is shown here.


---

An open-edition giclée print of this drawing is available for $20. You may use the button below to pay via PayPal, debit card or credit card. Be sure to confirm the shipping address.


Please note that the original drawing was made on calfskin vellum, which is not perfectly white, flat or homogenous. Natural variations in the color and thickness of the calfskin show up in the giclée print, especially in the outer borders. These are not smudges or printing errors, but part of the artwork itself.

See this page for additional ordering instructions and general information. If you want to pay via a check or money order, please e-mail me at danmitsui [at] hotmail [dot] com.