EMBER DAYS
DRAWING by DANIEL MITSUI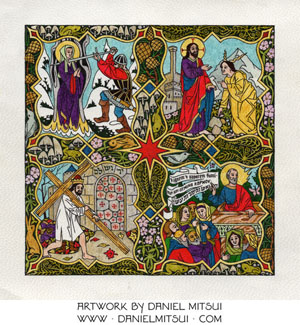 In a traditional Roman Catholic liturgical calendar, the Ember Days occur at the start of each season. On each set of three Ember Days, the faithful fast and abstain from meat and offer prayers in gratitude for the gifts of nature. A popular mnemonic rhyme teaches when these days should be observed:
Post Crucem, Post Lucem, Post Cineres, Post Ignes
That is, on the Wednesday, Friday, and Saturday in the next full week following the feast of the Exaltation of the Holy Cross, the feast of St. Lucy of Syracuse, Ash Wednesday, and Pentecost.

I drew a scene associated with each of these holy days: the Emperor Heraclius returning the Holy Cross the Jerusalem; the martyrdom of St. Lucy; Jesus tempted in the wilderness, and St. Peter's Pentecost sermon.



Medium: Drawing, color ink on goatskin parchment
Dimensions: 6" square
Year: 2022

The original drawing was made on private commission.


---

An open-edition giclée print of this drawing is available for $34. You may use the button below to pay via PayPal, debit card or credit card. Be sure to confirm the shipping address.


See this page for additional ordering instructions and general information. If you want to pay via a check or money order, please e-mail me at danielmitsuiartist at gmail dot com.