SECOND DREAM of ST. JOSEPH
DRAWING by DANIEL MITSUI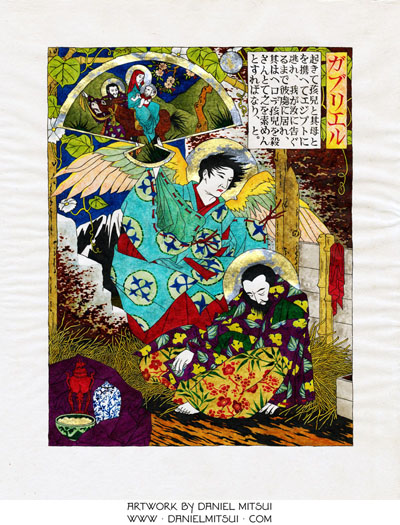 This depicts the second dream of St. Joseph, in which an angel (traditionally identified as St. Gabriel) warns him to flee into Egypt with the Blessed Virgin Mary and the Christ Child. This is the sixth commission I have received to draw Christian subjects in the style of Japanese art. In this work, I especially imitated the style of Tsukioka Yoshitoshi, a late ukiyo-e master. I referenced his series of woodblock prints 100 Aspects of the Moon for many parts of my drawing.

St. Gabriel holds a fan containing a vision of the Flight into Egypt and the Miracle of the Cherry Tree. I attempted to convey a sense of otherworldly urgency by having the angel's robes and hair blown by a strong wind that affects nothing else in the picture. St. Joseph sleeps in the stable of Bethlehem, next to the gifts of the Magi (in antique Chinese vessels). The text is from Emile Raguet's Classical Japanese New Testament translation of 1910, and says Gabriel and Arise, and take the child and his mother, and fly into Egypt: and be there until I shall tell thee. For it will come to pass that Herod will seek the child to destroy him.



Medium: Drawing, color ink on washi with gold and palladium leaf
Dimensions: 8" × 10"
Year: 2014

The original drawing was made on private commission.


---

An open-edition giclée print of this drawing is available for $75. You may use the button below to pay via PayPal, debit card or credit card. Be sure to confirm the shipping address.


See this page for additional ordering instructions and general information. If you want to pay via a check or money order, please e-mail me at danielmitsuiartist at gmail dot com.