BLESSED DAVID GUNSTON
DRAWING by DANIEL MITSUI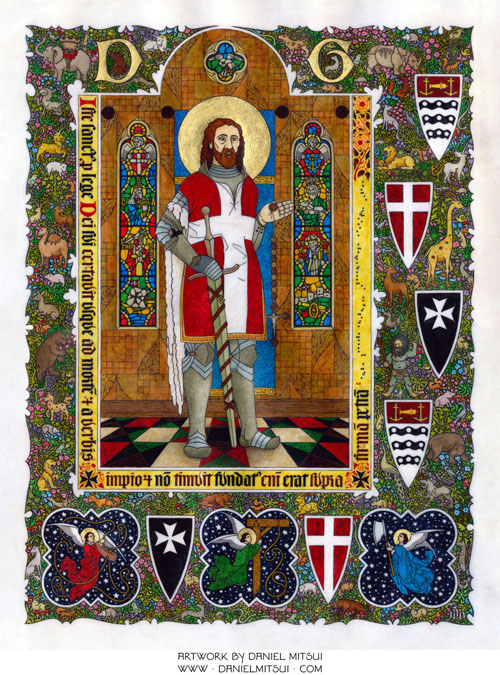 Bd. David Gunston (a.k.a. Gonson or Gunson) was an English knight of the Order of Malta who was martyred under Henry VIII. He was hanged, drawn and quartered at St. Thomas Waterings, Southwark on 12 July 1541.

I drew Sir David wearing the mantle of the Order of Malta over a suit of armor, with the helmet and one gauntlet removed. His pose and attire are based on funerary monuments of 16th century knights. He holds a sword in one hand, and a Paternoster (a late medieval 10-bead rosary) in the other.

The stained glass windows in the background contain images of David the King, Gonson's namesake; St. Thomas of Canterbury, the namesake of his place of martyrdom; St. John the Baptist, patron of the Order of Malta; and St. Augustine, the author of the rule it follows. There are also emblems of faith, hope and charity.

Surrounding the central picture is an inner border containing the text and musical neumes of the antiphon at the Magnificat for first vespers in the Common of Martyrs:
Iste sanctus pro lege Dei sui, certavit usque ad mortem et a verbis impiorum non timuit fundatus enim erat supra firmam petram.

This saint fought even unto death for the law of his God, and feared not the words of the wicked, for he was founded on a firm rock.
The text is written in a medieval textura preciscus script, in alternating black and sepia ink, and includes a number of scribal abbreviations.

The drawing is formatted as a recto page in an illuminated manuscript. The border includes the saint's initials and the coats of arms of the Order of Malta and of the Gunston family.

In the bas-de-page are three quatrefoils, each containing an angel holding an instrument of Sir David's martyrdom: the horse collar and ropes, the gallows and noose, and the axe.

The decoration in the rest of the border is done in a millefleur pattern. Among the plants are a number of creatures, both mundane and exotic, including an alphyn, a yale, a barometz, a pantheon, a camelopardel, a calgreyhound, a woodwose and a unicorn.



Medium: Drawing, color ink on calfskin vellum with gold leaf
Dimensions: 10" × 13"
Year: 2012

The original drawing was made on private commission.


---

An open-edition giclée print of this drawing is available for $122. You may use the button below to pay via PayPal, debit card or credit card. Be sure to confirm the shipping address.


See this page for additional ordering instructions and general information. If you want to pay via a check or money order, please e-mail me at danielmitsuiartist at gmail dot com.