ST. DAMIEN of MOLOKAI
DRAWING by DANIEL MITSUI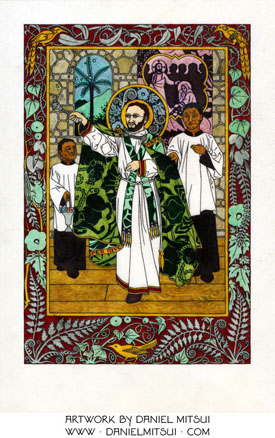 St. Damien of Molokai was a Belgian missionary priest of the 19th century who ministered to a leper colony on the Hawaiian island of Molokai. For sixteen years, he served the afflicted poluation as priest and physician, before himself contracting the disease and dying.

Here I drew him celebrating the Asperges rite before Mass; the text of the psalm recited seemed especially resonant: Thou shalt sprinkle me with hyssop, O Lord, and I shall be cleansed; Thou shalt wash me, and I shall be whiter than snow. The altar boys assisting the priest are themselves lepers; one holds the bucket of holy water and the other grasps the edge of the cope in a way that reflects the scene depictd on a wall hanging behing him: the cure of the woman afflicetd by an issue of blood, touching the hem of Christ's garment.

The plants and animals that appear in the ornamental border and halo are ones that lived on Molokai in the time of St. Damien. Most of them are endemic to Hawaii, and some are now extinct.

The damask pattern is my own design. Explicitly religious pictures seem not to have been used commonly in medieval fabrics, perhaps because of the impropriety of cutting them. Here I have chosen images that are whimsical but suggestive of the overall subject of the pictures. These include pigs and crabs (a reference to the Mosaic doctrine of uncleanness that was made obsolete by the New Covenant), and thorns to indicate suffering.



Medium: Drawing, color ink on calfskin vellum
Dimensions: 5 1/4" × 7 7/8"
Year: 2017

The original drawing was made on private commission.


---

An open-edition giclée print of this drawing is available for $43. You may use the button below to pay via PayPal, debit card or credit card. Be sure to confirm the shipping address.


See this page for additional ordering instructions and general information. If you want to pay via a check or money order, please e-mail me at danielmitsuiartist at gmail dot com.