ST. CUTHBERT of LINDISFARNE
DRAWING by DANIEL MITSUI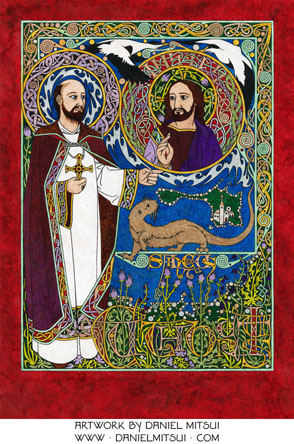 St. Cuthbert of Lindisfarne was a missionary, abbot, hermit and bishop of the seventh century.

Formed in the Celtic monastic tradition at the Scottish Abbey of Melrose, St. Cuthbert accepted the decision of the Synod of Whitby to adopt Roman practices regarding the shape of monastic tonsure and the paschal computus. Shortly thereafter, he entered the Abbey of Lindisfarne, located on an island off the Northumbrian coast, where he became prior and later abbot. Renowned for his asceticism and miracle-working, he would spend entire nights submerged to his neck in the chill surf, reciting psalms. Otters would dry and warm his exhausted body on the beach in the morning. Other beasts and birds, such as the local eider ducks, were said to obey his words. For years, he lived as a hermit on a tiny island near Lindisfarne, before being recalled to become bishop of the diocese.

I depicted St. Cuthbert early in his life, about the time that he first came to Lindisfarne. He wears the Roman (Petrine) tonsure, although his Celtic (Johannine) tonsure has not yet fully grown out; that is why the hair on the front half of his head is shorter. The pectoral cross and ring are based on actual relics of the saint, although simplified somewhat due to the small scale of the drawing.

The ornamental frame and haloes are based on Northumbro-Irish art from the era of St. Cuthbert, most especially the Lindisfarne Gospels that were dedicated to him. The knots and spirals are interwoven with thistles, two eider ducks and an otter. Here I attempted to draw upon the ornamental art of the early medieval manuscripts, while using more natural forms for people, plants, birds and beasts.

The inscription at the bottom is Sanctus Cuthbertus. Jesus Christ's halo includes the nomina sacra IHS XPS, written in runic letters, as it is on the reliquary casket of St. Cuthbert. The Island of Lindisfarne appears just above the otter. I drew a small church representing the monastery, and St. Cuthbert's hermitage island just off the coast.



Medium: Drawing, color ink on Bristol board
Dimensions: 5 7/8" × 8 3/8"
Year: 2018

The original drawing was made on private commission.


---

An open-edition giclée print of this drawing is available for $46. You may use the button below to pay via PayPal, debit card or credit card. Be sure to confirm the shipping address.


See this page for additional ordering instructions and general information. If you want to pay via a check or money order, please e-mail me at danielmitsuiartist at gmail dot com.