CHRIST in MAJESTY
DRAWING by DANIEL MITSUI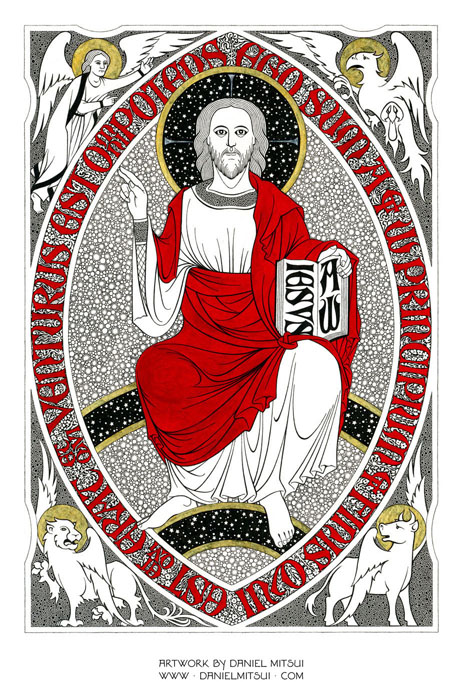 This is an ink drawing on a 9 1/4" × 13 1/8" piece of Bristol board. I drew it using fine-tipped black pens; red calligraphers' ink applied with brushes; and 23k gold leaf and palladium leaf adhered with gum ammoniac.

The original has been sold.

This drawing was inspired by similar images in 12th and 13th century illuminated manuscripts, especially the Stavelot Gospels, the Westminster Psalter and the Codex Bruschal. Christ raises His right hand in benediction and holds an open book in His left, whose pages are inscribed with the word IESUS and the letters Alpha and Omega.

The mandorla surrounding Christ in Majesty is inscribed with a passage from the first chapter of the Apocalypse of St. John:
Ego sum Alpha et Omega, principium et finis, qui est et qui erat et qui venturus est, Omnipotens.

I am Alpha and Omega, the beginning and the end, who is and who was and who is to come, the Almighty.
The four winged creatures representing the Evangelists fill the spaces in the corners.


---

An open-edition giclée print of this drawing is available for $114. You may use the button below to pay via PayPal, debit card or credit card. Be sure to confirm the shipping address.


See this page for additional ordering instructions and general information. If you want to pay via a check or money order, please e-mail me at danmitsui [at] hotmail [dot] com.