JESUS CHRIST at the DOOR
DRAWING by DANIEL MITSUI


Behold, I stand at the gate and knock. If any man shall hear My voice and open to Me the door, I will come in to him and will sup with him, and he with Me.

This drawing is based on this passage from the third chapter of the Apocalypse of St. John, which is written on the lintel and the rug. The famous Light of the World painting by William Holman Hunt was another source of inspiration. In that painting, the door significantly lacks an exterior handle; in my drawing, I show the door having just been opened from the inside. The spider web and poison ivy vines stretched across the corners of the doorway indicate a long neglect of the persistently knocking Jesus Christ.

I drew Jesus wearing a crown, alb and cope, designating him as king and priest. The one red part and one blue part of the cope suggest the blood and water that flowed from His side.

Inside, a breadbasket and a wineskin hang, referring both to the upcoming supper mentioned in the Biblical passage and to the Holy Eucharist. One the other wall, a candle burns in an empty shrine to the Unknown God.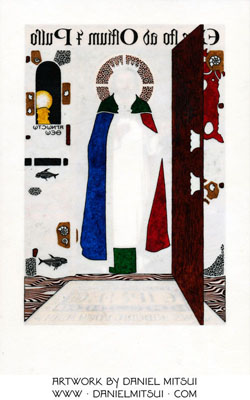 I used the calfskin's translucency for artistic effect, drawing certain details on the opposite side of the sheet, in reverse. These include the lettering on the lintel, wood grain, fossils and fabric colors. Like watermarks, these are more visible when the drawing is held up to a light. The original drawing thus has a different character depending on where and when it is seen.



Medium: Drawing, color ink on calfskin vellum
Dimensions: 5" × 7"
Year: 2018

The original drawing was made on private commission.


---

An open-edition giclée print of this drawing is available for $35. You may use the button below to pay via PayPal, debit card or credit card. Be sure to confirm the shipping address.

These giclée print is on opaque paper, printed on one side only. The effect of the translucent calfskin is only apparent on the original drawing.


See this page for additional ordering instructions and general information. If you want to pay via a check or money order, please e-mail me at danielmitsuiartist at gmail dot com.