SMALLER ALTAR CARDS by DANIEL MITSUI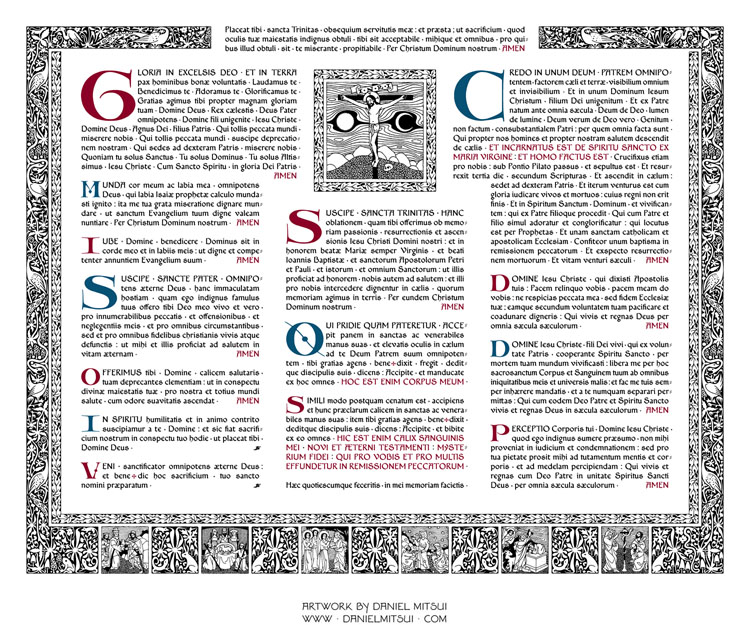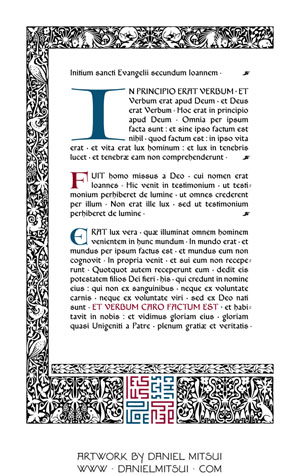 Altar cards display prayers that are recited by a priest who celebrates the Traditional Latin Mass. This set has red and blue initial letters, borders with composed millefleur ornament, and miniatures of the Crucifxion, the offerings of Melchizedek, the sacrifice of the Paschal Lamb, the Hospitality of Abraham, the gathering of manna, the Binding of Isaac, and the Brazen Serpent.

The spelling and punctuation of the text follow the typical edition of the 1962 Roman Missal. The text is set in Benedict, a typeface that I designed myself.



Medium: Drawing, color ink on calfskin vellum with gold and palladium leaf
Dimensions: 15" × 12" (central card), 6" × 9" (other cards)



---

These altar cards are available as open-edition giclée prints on Lexjet Archival Matte paper. The set of three cards costs $125. You may use the button below to pay via PayPal, debit card or credit card. Be sure to confirm the shipping address.

For the printed altar cards (shown above) I substituted the typeset text for the handwritten, as it is easier to read.



See this page for additional ordering instructions and general information. If you want to pay via a check or money order, please e-mail me at danielmitsuiartist at gmail dot com.