ST. ALBERT
DRAWING by DANIEL MITSUI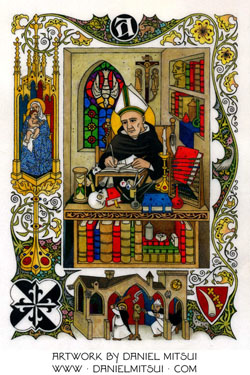 St. Albert the Great was a 13th century Dominican friar, bishop, philosopher and natural scientist. I depicted the saint seated at his desk, writing, surrounded by his books, bottles, instruments of calculation and devotional objects.

The ornamental border surrounding the central image was inspired by the borders in the Sherborne Missal, a 14th century illuminated manuscript. It contains flowering vines, tiny plants and animals, a Gothic monstrance holding an image of the Virgin Mary and Christ Child, the arms of the Order of Preachers in a quatrefoil, and the saint's family arms on a shield. In the bas-de-page I illustrated an old story told of St. Albert: he spent decades inventing a mechanical head that answered questions posed to it. St. Thomas Aquinas, either annoyed or frightened by the automaton, smashed it to pieces.



Medium: Drawing, color ink on calfskin vellum
Dimensions: 5" × 7"
Year: 2013

The original drawing was made on private commission.


---

An open-edition giclée print of this drawing is available for $33. You may use the button below to pay via PayPal, debit card or credit card. Be sure to confirm the shipping address.


See this page for additional ordering instructions and general information. If you want to pay via a check or money order, please e-mail me at danielmitsuiartist at gmail dot com.