TOBIAS ANOINTS HIS FATHER'S EYES
DRAWING by DANIEL MITSUI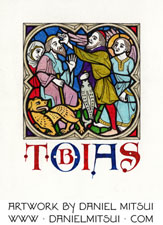 I illustrated a scene from the Book of Tobit in the style of a stained glass window.
Then Tobias taking of the gall of the fish, anointed his father's eyes. And he stayed about half an hour: and a white skin began to come out of his eyes, like the skin of an egg. And Tobias took hold of it, and drew it from his eyes, and immediately he recovered his sight. And they glorified God, both he and his wife and all that knew them.


Medium: Drawing, color ink on Bristol board
Dimensions: 3 1/4" × 4"
Year: 2023


---

The original drawing is available for sale for $366. You may use the button below to pay via PayPal, debit card or credit card. Be sure to confirm the shipping address.


See this page for additional ordering instructions and general information. If you want to pay via a check or money order, please e-mail me at danielmitsuiartist at gmail dot com.