FORTIS UT MORS DILECTIO
PRINT by DANIEL MITSUI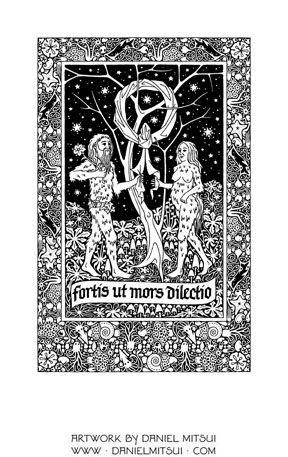 Fortis ut mors dilectio, or Love is as strong as death, is a passage from the Song of Songs. Here, I depict two woodwoses, a man and a woman, holding the ends of a lover's knot. The woodwose, or wild man of the woods, is a figure from medieval European folklore and literature. Woodwoses appears often in both sacred and secular art, and are frequently associated with both death and eros.



Dimensions: 8" × 12"


---

An open-edition giclée print is available for $40. You may use the button below to pay via PayPal, debit card or credit card. Be sure to confirm the shipping address.


See this page for additional ordering instructions and general information. If you want to pay via a check or money order, please e-mail me at danielmitsuiartist at gmail dot com.