CHRIST IN MAJESTY
PRINT by DANIEL MITSUI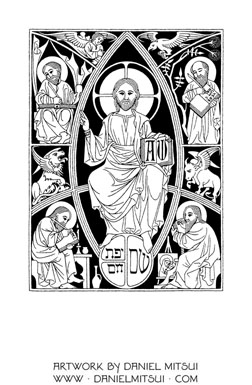 This depicts Jesus Christ in Majesty, holding a book with the letters Alpha and Omega written in it. He sits on a rainbow, with an orb representing the world underfoot. The orb is divided as a T-O map into three continents, in which the names of Shem, Ham, and Japheth are written in Hebrew.

Around the central figure are the four Evangelists writing their Gospels, and the winged creatures who represent them.

The print is based on my ink drawings. It is about one and a half times larger than the originals.



Dimensions: 7" × 10"


---

An open-edition giclée print is available for $30. You may use the button below to pay via PayPal, debit card or credit card. Be sure to confirm the shipping address.


See this page for additional ordering instructions and general information. If you want to pay via a check or money order, please e-mail me at danielmitsuiartist at gmail dot com.