MOSES and the MAJOR PROPHETS
PRINT by DANIEL MITSUI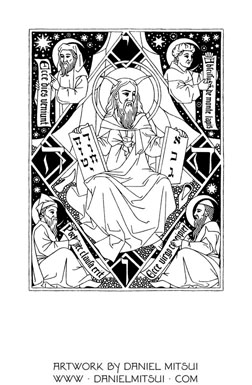 This depicts Moses, as decribed in the Book of Exodus: When Moses came down from the mount Sinai, he held the two tables of the testimony, and he knew not that his face was horned from the conversation of the Lord.

My drawing follows both medieval tradition and the Hebrew text, depicting Moses as literally horned. (Some interpret the text idiomatically, taking the word that means horned to mean radiant instead.) He is surrounded by Hebrew letters spelling the name of God, and the four Major Prophets: Jeremiah, Daniel, Isaiah, and Ezekiel, each of whom holds a banderole on which part of his prophecy is written.

The print is based on my ink drawings. It is about one and a half times larger than the originals.



Dimensions: 7" × 10"


---

An open-edition giclée print is available for $30. You may use the button below to pay via PayPal, debit card or credit card. Be sure to confirm the shipping address.


See this page for additional ordering instructions and general information. If you want to pay via a check or money order, please e-mail me at danielmitsuiartist at gmail dot com.