IMMACULATE MARY
PRINT by DANIEL MITSUI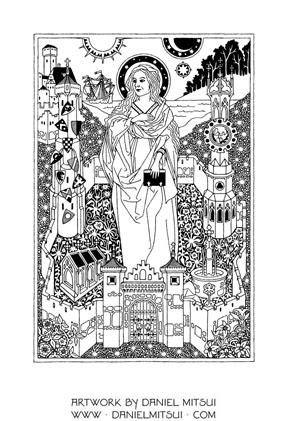 This image of the Blessed Virgin Mary draws inspiration from artwork of the 15th and 16th centuries, in which Mary is portrayed in her youth, surrounded by traditional symbols from the Song of Songs and the litanies that indicate her sinlessness. Here, these include:

Clarus ut sol (Clear as the Sun)
Pulchra ut luna (Beautiful as the Moon)
Stella maris (Star of the Sea)
Civitas Dei (City of God)
Navis institoris de longe portat panem suum (Merchant Ship that Bringeth Food from Afar)
Cedrus exaltata (Exalted Cedar)
Turris David (Tower of David)
Turris eburnea (Tower of Ivory)
Speculum sine macula (Spotless Mirror)
Hortus conclusus (Enclosed Garden)
Archa Domini (Ark of the Covenant)
Fons signatus (Sealed Fountain)
Porta clausa (Closed Gate)
Rosa sine spina (Thornless Rose)
Lilium inter spinas (Lily among Thorns)

The print is based on my ink drawings. It is about one and a half times larger than the originals.



Dimensions: 8" × 11"


---

An open-edition giclée print is available for $40. You may use the button below to pay via PayPal, debit card or credit card. Be sure to confirm the shipping address.


See this page for additional ordering instructions and general information. If you want to pay via a check or money order, please e-mail me at danielmitsuiartist at gmail dot com.