ALMA REDEMPTORIS MATER
PRINT by DANIEL MITSUI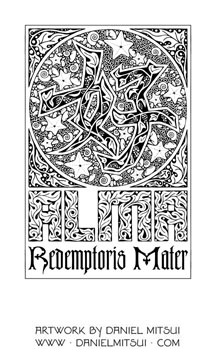 The print is based on an ink drawing of a Chinese ideograph for goodness. Matteo Ricci, a missionary to China, used this ideograph as an example in a mnemonic treatise he wrote for the Ming court. He divided it vertically into its component characters, one signifying woman, and the other child. He attached to it the mnemonic image of a young woman holding a child in her arms and playing with him. The resonance of this character with the loving Mother of the Redeemer is obvious. Below this I wrote the opening words of the Alma Redemptoris Mater, a hymn to the Blessed Virgin Mary sung as an antiphon during the seasons of Advent and Christmas:



Maiden! Mother of Him Who redeemed us, thou that abidest
Heaven's open gate, and the Star of the Sea, come, succor the fallen.
Fallen indeed we are, but fain would rise by thy succor.
Thou that beyond nature's course hast borne in time the Eternal,
Thou that a Virgin before, and after that childbirth remainest,
From the Archangel's lips the quickening message receiving,
Mother of Jesus and us, turn thine eyes of mercy on sinners.



The print is about one and a half times larger than the original drawing.



Dimensions: 6" × 9"


---

An open-edition giclée print is available for $20. You may use the button below to pay via PayPal, debit card or credit card. Be sure to confirm the shipping address.


See this page for additional ordering instructions and general information. If you want to pay via a check or money order, please e-mail me at danielmitsuiartist at gmail dot com.