NIGRA SUM SED FORMOSA
DRAWING by DANIEL MITSUI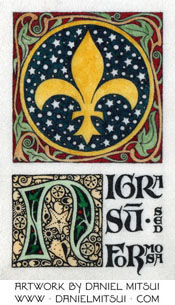 This is an ink drawing on a 1 3/4" × 2 3/4" piece of calfskin vellum. I drew it using technical pens and calligraphers' inks applied with metal-tipped dip pens and brushes. It has an emblem of a fluer-de-lis and the words NIGRA SUM SED FORMOSA, or I AM BLACK BUT BEAUTIFUL; these are from the Song of Songs, traditionally applied to the Blessed Virgin Mary.




---

The original drawing is available for sale for $169. You may use the button below to pay via PayPal, debit card or credit card. Be sure to confirm the shipping address.



See this page for additional ordering instructions and general information. If you want to pay via a check or money order, please e-mail me at danmitsui [at] hotmail [dot] com.