PAPER & INK


I carefully select the materials used to print the works issued by Millefleur Press. My first concern is that they be permanent; the papers are archival and the inks are lightfast. My second concern that they be beautiful, and my third is that they be traditional.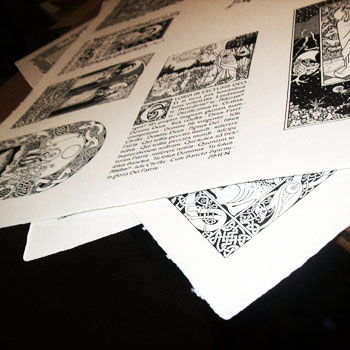 Certain Millefleur Press broadsides are printed on paper from Twinrocker Handmade Paper (Brookston, IN). The following is a description of Twinrocker's methods paraphrased from its own brochures:
Established in 1971, Twinrocker Handmade Paper was pivotal to the renaissance of hand-papermaking in America. Small and innovative, Twinrocker encouraged the art world to appreciate the æsthetic importance of paper. Twinrocker makes handmade paper just as paper was made in Europe centuries ago.

The first step is to beat the fiber to a pulp in a Hollander beater. The plant fibers are mixed with pure water and the pounding action of the beater crushes and abrades the fibers. The beating process creates new bonds between the fibers and is crucial in determining the physical characteristics of the finished paper.

Each sheet is formed, one at a time, by dipping a traditional European-style hand mould into a vat of pulp, scooping up a thin layer of pulp on its surface, throwing off any excess, and then, while holding the mould level, shaking it from side to side and front to back as the water drains through the mesh of fine brass wire. The shake interlocks the fibers into a smooth, even mat.

The freshly formed sheets are then couched between wool felt blankets. A stack of couched sheets is then placed in a hydraulic press which squeezes out most of the water. After pressing, the sheets are strong enough to be lifted by hand off the felts and dried.
The Twinrocker paper I use is very heavy text-weight; it is cream-colored and made from cotton rag. Its surfaces are cold-pressed with a laid pattern from the wires in the papermaking mould; laid paper was the only kind of paper manufactured in Europe before the 18th century. When possible, I preserve the deckle edges in the trimmed prints.

For other broadsides and for bookplates, I use Reich Savoy text-weight paper; this is made by machine from cotton fiber. It has a natural white color and a wove surface.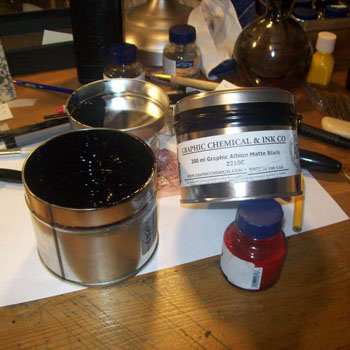 Graphic Chemical & Ink (Villa Park, IL) produces some of the purest and most traditional printing inks available today. Their Albion Matte Black was first formulated it for use on iron handpresses. It has a linseed oil base and is pigmented with finely-ground furnace black; its composition differs little from that of 15th century printing inks. Graphic Chemical & Ink's Bond Black is another fine ink for letterpress printing that uses the company's original recipe from 1920. These inks are used for the prints issued by Millefleur Press.


---

ABOUT MILLEFLEUR PRESS
LETTERPRESS PRINTING
PAPER & INK
TYPOGRAPHY