JESUS CHRIST HEALS the LEPER
DRAWING by DANIEL MITSUI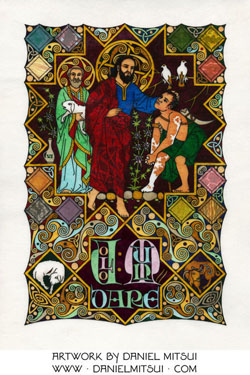 This illustrates Jesus Christ healing a leper, as described in the eighth chapter of St. Matthew's Gospel. I drew the leper as a destitute beggar, suffering from a disease that has caused his skin to whiten. This, the Biblical desciption of leprosy, does not match the symptoms of Hansen's disease, so it is probably a different kind of illness.

The book of Leviticus describes a certain ritual sacrifice for the cleansing of a leper, and then an alternative for those too poor to afford the required animals. The alternative involves a lamb, a sextary of oil and two pigeons. These are included in the drawing in reference to the sacrifice that Jesus instructs the leper to make. St. Peter stands behind Jesus, holding the lamb.

The plant growing in the background is Hyssop, referring to the Psalm: Thou shalt sprinkle me with hyssop, and I shall be cleansed: thou shalt wash me, and I shall be made whiter than snow.

I drew the Paschal Lamb and the Scapegoat near the bottom. The twelve squares around the central image refer to the gemstones in the breastplate of the High Priest.



Medium: Drawing, color ink on calfskin vellum
Dimensions: 5" × 7"
Year: 2018

The original drawing was made on private commission.


---

An open-edition giclée print of this drawing is available for $35. You may use the button below to pay via PayPal, debit card or credit card. Be sure to confirm the shipping address.

The original drawing included a personal inscription; the words Volo, Mundare below the main image I drew separately and edited into the print (shown above) in its place.


See this page for additional ordering instructions and general information. If you want to pay via a check or money order, please e-mail me at danielmitsuiartist at gmail dot com.