IN the BEGINNING
DRAWING by DANIEL MITSUI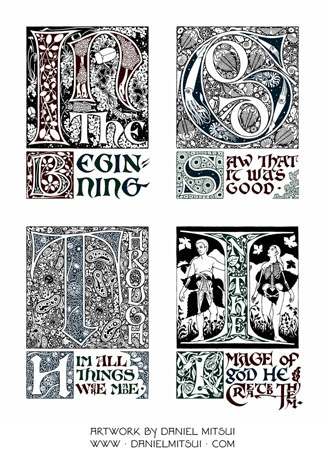 This is an ink drawing on a 6 1/2" × 8 1/2" piece of Bristol board. I drew it using technical pens, dip pens and bottled calligraphers' inks.

The original was created on private commission, for a group of theologians who apply the thought of St. Thomas Aquinas to questions of biology. In each of its four parts, a short passage from Holy Writ relating to God's Creativity is fancifully lettered, with various biological forms filling and surrounding the letters.

In the upper left, these are lichen and moss, beetles and an earwig, vines and morel mushrooms. In the upper right, trilobites, pentemites and the shells and skeletons of various other sea creatures surround the letters; inside appear squid and chambered nautili. In the lower left, the ornament is composed of various protozoans and the organelles of an animal cell. In the lower right, I drew Adam and Eve, with parts of their bodies blocked off to show internal structures (ligaments and bones). The x-rayed areas are shaped like fig leaves, which is sort of a joke, as they also serve to cover Adam and Eve's nudity. In the smaller versal, I drew hummingbirds feeding from orchids.

I modified the colors when creating the print file (which is shown on this page); those on the original drawing are different.


---

An open-edition giclée print of this drawing is available for $52. You may use the button below to pay via PayPal, debit card or credit card. Be sure to confirm the shipping address.


See this page for additional ordering instructions and general information. If you want to pay via a check or money order, please e-mail me at danmitsui [at] hotmail [dot] com.