E-mail danielmitsuiartist at gmail dot com to subscribe to this newsletter.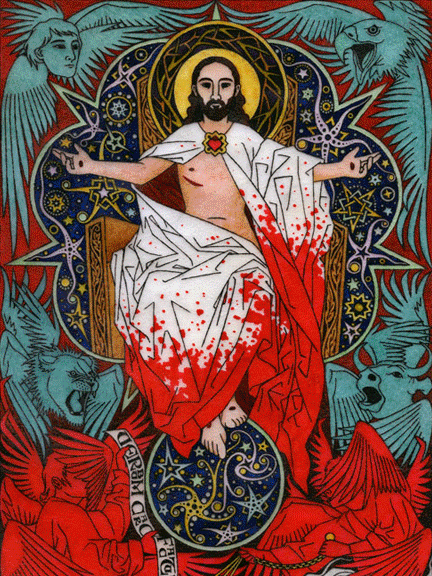 DEAR FRIENDS, PATRONS & BENEFACTORS:
During the month leading up to Christmas and Epiphany, I usually receive many orders intended to be given as gifts. By contacting my pressmen every few days, cutting down packing cardboard in quantity, and visiting the post office often, I am almost always able to get them into my patrons' hands in time for the holiday. I do very much appreciate orders that are placed early so there is less of a rush!

I apologize that my website is still in need of improvement. I am planning to revise the code to make it display better on mobile devices, and also to create a search function. I am aware that it can be difficult to find specific works of art on my website, since I have so many different ones (almost 300!) on display there. If you are looking for a work of art on a particular subject, or an idea for a gift for someone, please do not hesitate to e-mail me. I know what I have available better than anyone, and I am happy to make suggestions.



Yours faithfully,

Daniel Mitsui
November 2018
---
DRAWINGS in PROGRESS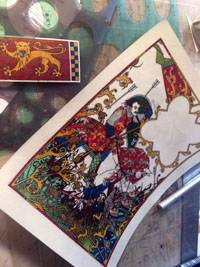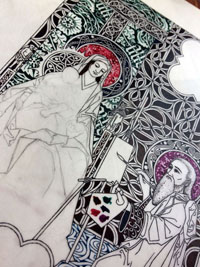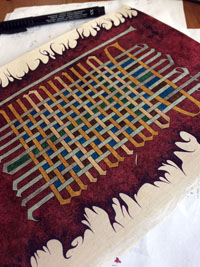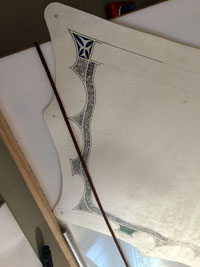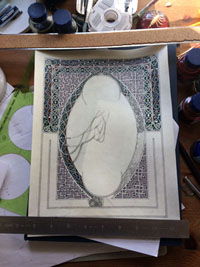 ---
FEATURED ORIGINAL DRAWINGS


I have twenty-four original religious drawings available for sale immediately; these can all be seen on my website here. They include:








---
FEATURED LETTERPRESS PRINTS


I have twenty-three different letterpress prints from Millefleur Press in stock now; these can all be seen on my website here. They include:










I have one hand-colored broadside with gold and palladium leaf available now of each of the following: the Sacred Heart, St. Nicholas, the Second Dream of St. Joseph, the Infant King, the Mystical Unicorn Hunt, the Mass for the Dead and the Last Judgment. There may still be time to prepare others in time for Christmas, if I receive the orders soon.


---
FEATURED GICLEE PRINTS


I have more than 100 different religious giclée prints available; these can all be seen on my website here, and here.

I do not keep giclée prints in stock, but request them from my pressmen as I receive orders. Please try to order them at least two weeks before you need them in hand.

These are some that are especially relevant to the upcoming seasons of Advent and Christmas:










And please consider altar cards as a gift for any priest who celebrates the traditional Latin Mass, or any seminarian who is learning it: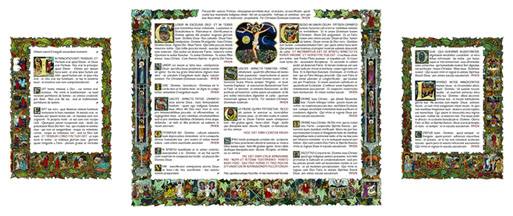 ---
UPDATE on the SUMMULA PICTORIA


In 2017, I announced the Summula Pictoria, a project that I expect to be my magnum opus, and to which I will devote a large part of the next 13 years: more than 200 ink drawings on calfskin, covering major events in the Old and New Testaments, from the Creation to the deaths of the Apostles. I am ready to start drawing the first of the pictures before the end of this year, far ahead of schedule.

I want all of the pictures in this series to have a consistent visual language, a signature iconography that very precisely shows their theological meaning. This requires a lot of research and consideration at the start of the project. Over the past two months, I have been working on three problems.

The first is the manner in which I will depict different cultures. I intentionally set most of my religious drawings, whether of the Old Testament or the New, in the material culture of the late Middle Ages, rather than in an archaeological reconstruction or a contemporary setting. (I have explained the reasons here.) However, Biblical scenes sometimes require making distinctions between Hebrews, Canaanites, Egyptians, Sabeans, Syrians, Babylonians, Persians, Indians, Greeks and Romans.

My plan is to take the same medievalist approach to all of these, distinguishing them by their architecture and clothing and weaponry, but without making any direct reference to their actual ancient artifacts.

The second task has been planning the patterns that will appear on clothing and wall hangings in the Summula Pictoria. I certainly have no plans to draw perfunctory floral designs here; there will be a parallel narrative of symbols running through the entire series of drawings, on damask.

The third task has been figuring out how to depict aspects of sacred anthropology. I want specific devices to indicate whether I am drawing a body united to a spirit, a dead body or a disembodied spirit; whether a living body is lapsarian or glorified; whether a dead body is corrupt or incorrupt. I want the haloes to differ for saints of the Old Testament and saints of the New Testament.

In most of the pictures that I plan to draw, this is fairly straightforward. But consideration of the difficult cases has occupied my mind a lot recently. Were Dathan and Abiram still alive in their bodies when Jesus Christ descended to the dead? Were Samson and Solomon among the elect? At the Transfiguration, was Moses in the body or out of it? Researching questions like these has led me to some really surprising and rewarding conclusions.

My desks are littered with many pages of handwritten notes, like these: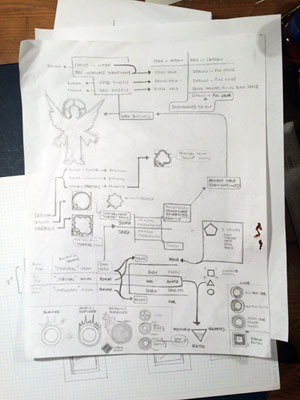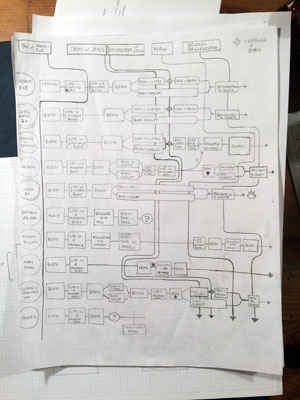 The full list of pictures included in the scope of the Summula Pictoria can be read here; I still need patrons for most of these.
---
The prices quoted in this newsletter do not include shipping. Please review the ordering instructions and general information here.


If you have received this newsletter by mistake, or if you would like to unsubscribe, please reply to this e-mail with a note to remove your name from the list.
---
---