If you are unable to read the html version of the newsletter below,
please visit www.danielmitsui.com/00_pages/current.html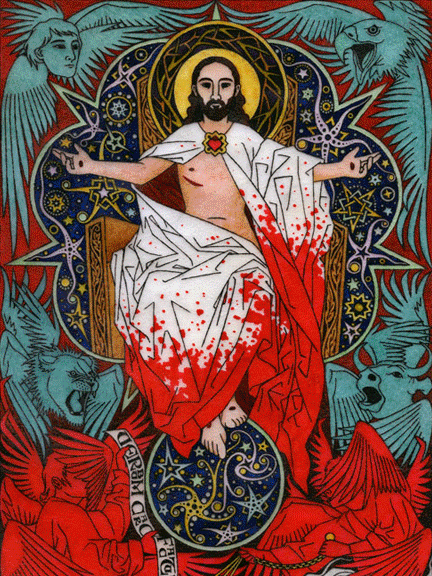 DEAR FRIENDS, PATRONS & BENEFACTORS:
If you know me at all, you know that I do not like to use computers. I am willing to do so (obviously) but I find it very agitating. I also have the sort of obsessive personality that makes me susceptible to falling into the habit of using computers compulsively. I have been aware of this for most of my life, and try my best to use them in as limited and disciplined a way as possible.

From the time that I made my first sale of artwork over the Internet (in 2003, I think), I have operated in the same basic manner. I have an html web site that I write and code myself, and I have an e-mail address. Sometimes, I maintain a web log (whose content I usually prepare offline and post long in advance). I would have been content to keep it this way forever had it remained effective.

However, in 2016 I started to notice a decline in online sales, and suspected that the reason was basically technological. Fewer and fewer people were finding my artwork. So I am making some necessary changes. First, I have created accounts for my business on Facebook, Google+ and Pinterest. So many people depend on these to find things online that I cannot afford to remain absent from them. With a little help from a social media management platform (and a lot of help from my wife), I think that I will be able to use these without too much difficulty.







Second, I am planning to have my www.danielmitsui.com web site revised professionally. My biggest concern here is to make it easier to search and to navigate; as one patron pointed out to me recently, I have drawn so many pictures that it is hard to find anything specific.

I now have several big projects aside from my usual commissioned drawings: Millefleur Press, lectures, coloring books. Soon I plan to start selling patterned fabrics and jigsaw puzzles. I want to be sure that all of these are coherently presented online. I am preparing also for the translation of the web site and my lectures into Spanish, French and Portuguese. A few translators are working on this already (in exchange for artwork), and I am still seeking others.

Third, I am working on a better way to present and to solicit patronage for the Summula Pictoria, an ambitious project of Biblical illustration. Now that I have social media accounts to share my other work, I shall devote my web log exclusively to original writing that records my research and progress on the Summula Pictoria.

I am acutely aware that I am hastening to catch up to yesterday's technology, which may already be losing relevance. I am also aware that the trend in using the Internet is toward mobile devices with small screens and toward more rapid engagement with content. That is really very bad for displaying intricately detailed artwork that is supposed to be looked at for a very long time. I deliberately make my drawings so that they cannot be reduced altogether to electronic images. And I like any way of reproducing them that encourages people to spend a long time looking closely (thus, coloring books and jigsaw puzzles).

I have no brilliant solution for these problems. I would welcome advice.



Yours faithfully,

Daniel Mitsui
October 2017
---
OCTOBER AUCTION


I am offering for auction this month two hand-colored letterpress prints and two original drawings. I will sell these to whomever makes the highest bid on them by October 30th. The minimum bid is half the ordinary price. To place a bid, e-mail danielmitsuiartist@gmail.com.




Unicorn Hunt as an Allegory of the Incarnation
6 3/4" × 9 3/4"
Letterpresss print
Hand-colored in ink with gold & palladium leaf
Full description here
Ordinary price: $453
Starting auction price: $227


Mark 10:1-12 & 1 Corinthians 11:23-29
12" × 8 1/2"
Letterpresss print
Hand-colored in ink with gold & palladium leaf
Full description here
Ordinary price: $529
Starting auction price: $265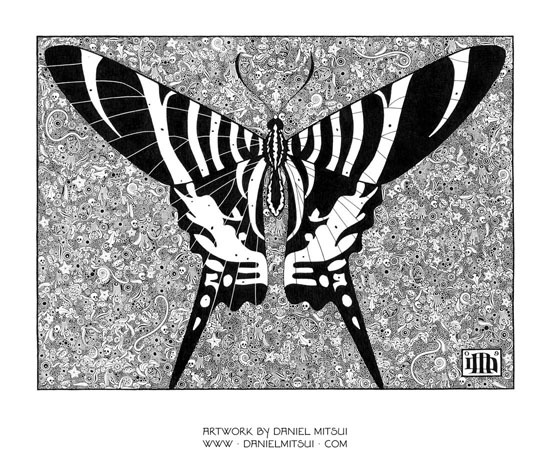 Butterfly
11" × 8 1/2"
Original drawing: black ink on paper
Ordinary price: $1360
Starting auction price: $680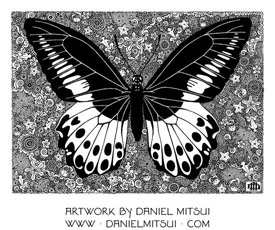 Butterfly
5 1/2" × 4 1/8"
Original drawing: black ink on paper
Ordinary price: $370
Starting auction price: $185
---
NEW DRAWING: MARTYRDOM of ST. THOMAS MORE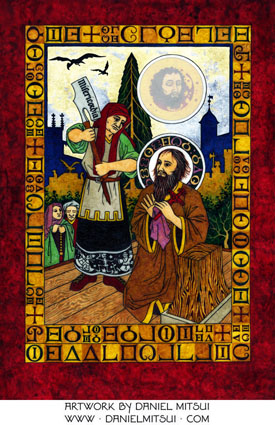 St. Thomas More was an intellectual and statesman who served as Lord Chancellor of England under Henry VIII. He was beheaded in 1535 for refusing to take an oath of supremacy that declared the King to be the head of the English Church, without qualification. Here, I wanted to draw a parallel between St. Thomas More and two other martyrs: St. Thomas of Canterbury and St. John the Baptist. The drawing includes two inscriptions transliterated into the fictional Utopian alphabet.

Click here to read a full description, or to purchase a print.
---
NEW DRAWING: ST. IGNATIUS of ANTIOCH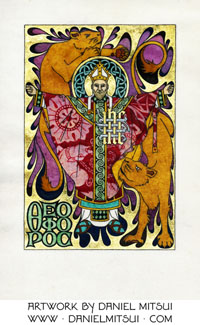 St. Ignatius was a disciple of St. John the Apostle, a bishop of Antioch and a martyr under Trajan. While being tortured, he repeatedly called upon Jesus Christ, telling his tormentors that he could not stop invoking a name that was written upon his heart.

He was then thrown to savage beasts in the Roman arena; the emperor's purpose was to see the saint devoured so that no relics of his body might remain. However, the two lions that leapt upon the saint would not bite or tear his flesh; he died rather by being smothered by their bodies. When his heart was later removed from his dead body, the name of Jesus Christ was indeed found written on it in gold letters.

Click here to read a full description, or to purchase a print.
---
NEW DRAWING: DAVID, KING and PROPHET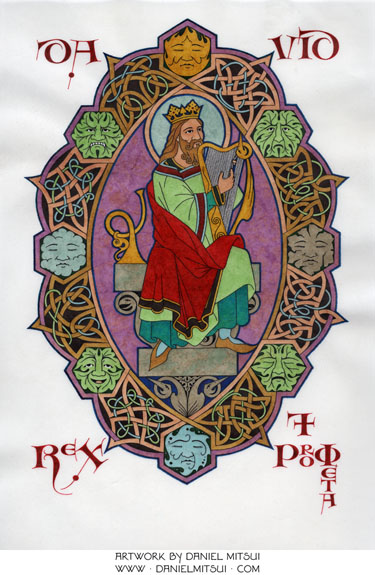 I drew David, King and Prophet, playing his harp with a horn by his side. In an almond-shaped decorative frame are four hexagonal emblems that personify the classical elements. Between them are four green men representing the bodily humors. Here David is a symbol of music, itself a symbol of the harmony of the created world.

Click here to read a full description, or to purchase a print.
---
NEW DRAWING: ST. FRANCIS of ASSISI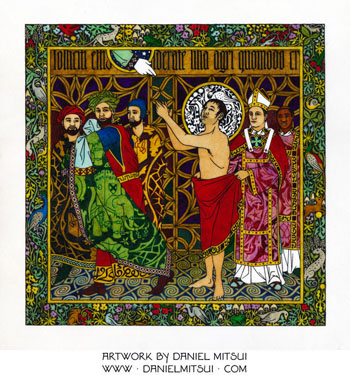 This illustrates an incident early in the life of St. Francis of Assisi, described by Thomas of Celano:
When he had been led before the bishop, Francis neither delayed nor explained himself, but simply stripped off his clothes and threw them aside, giving them back to his father. He did not even keep his trousers, but stood there in front of everyone completely naked. The bishop, sensing his intention and admiring his constancy, rose and wrapped his arms around Francis, covering him with his own robe. He saw clearly that Francis was divinely inspired and that his action contained a mystery. Thus he became Francis's helper, cherishing and comforting him.
Click here to read a full description, or to purchase a print.
---
MORE ORIGINAL DRAWINGS for SALE
---
LETTERPRESS BROADSIDES from MILLEFLEUR PRESS
---
GICLÉE PRINTS
---
The prices quoted in this newsletter do not include shipping. Please review the ordering instructions and general information here.

If you have received this newsletter by mistake, or if you would like to unsubscribe, please reply to this e-mail with a note to remove your name from the list.
---