E-mail danielmitsuiartist at gmail dot com to subscribe to this newsletter.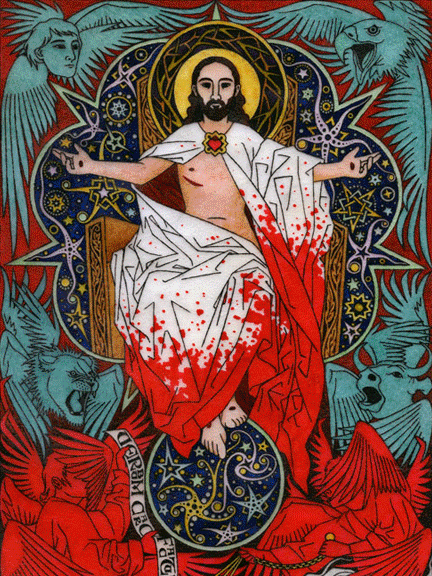 DEAR FRIENDS, PATRONS & BENEFACTORS:
For years, I have sold letterpress-printed universal bookplates, with blank spaces in which names can be written, at $6 or $7 for a package of 10. My supply has dwindled, and I have decided to give away the remaining ones as an incentive.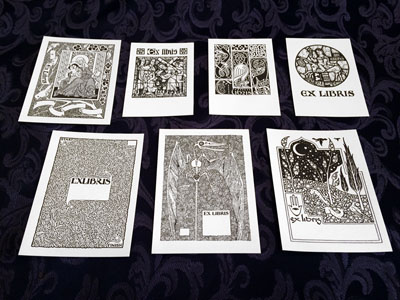 While supplies last, I will include 10 bookplates with every order of drawings, prints or coloring books up to $50, 20 bookplates with every order up to $100, et cetera. When you place an order, include a note if you prefer a specific design; I have the most of the bookplates depicting St. Ann, the Way of the Cross, lacertines, the capture of a unicorn, a maze, a rhamphorhynchus skeleton and a Persian garden. Otherwise, I will just choose a variety to send to you.

I am also eager to share my artwork with more people, and will give away bookplates for help with this: 5 bookplates for a promise to share 10 pictures of pages from my website on social media, or to forward my newsletter to 10 people.

UPDATE: My supply of universal bookplates is now exhausted, so the giveaway is over. I will announce a different special in the next newsletter.



Yours faithfully,

Daniel Mitsui
April 2017
---
NEW DRAWINGS for SALE


Click on any of the images below to read a full description, see a larger image or purchase the drawing.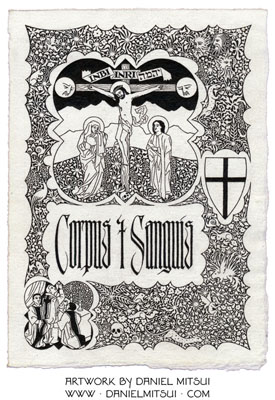 The Crucifixion of Jesus Christ, with the Blessed Virgin Mary and John the Apostle at the foot of the Cross.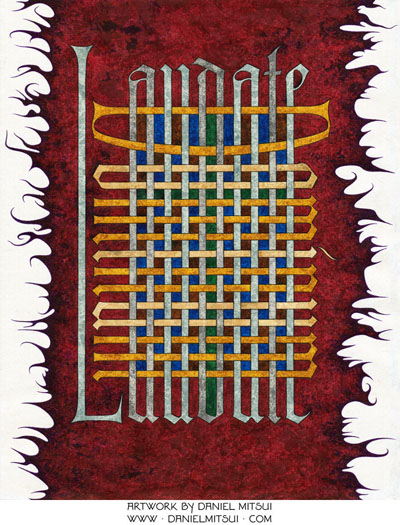 The words Laudate Dominum written in a blackletter script, the letters weaving into each other at right angles.






A calligraphic experiement on the words Lucas Evangelista, including Northumbro-Irish knot patterns.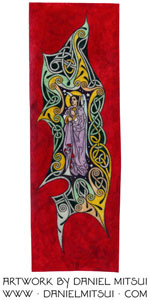 St. Gabriel the Archangel holding his trumpet, surounded by knot and spiral patterns.






The Sacred Heart of Jesus Christ, the Five Wounds and the Instruments of the Passion, presented like heraldic arms.
---
NEW COMMISSIONED DRAWINGS


Click on any of the images below to read a full description, see a larger image or purchase a giclée print.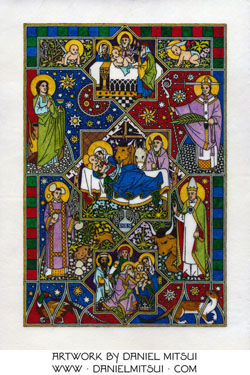 Eight feasts celebrated during the liturgical season of Christmas: The Nativity of Jesus Christ, His Circumcision, the Adoration of the Magi, St. Stephen, St. John the Apostle, the Holy Innocents, St. Thomas of Canterbury, and St. Sylvester.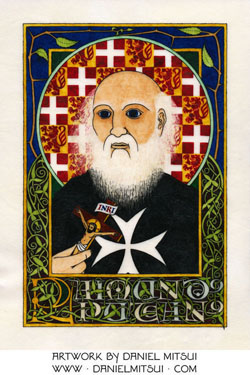 Blessed Raymond duPuy, the second superior of the Knights of St. John of Jerusalem (Knights Hospitaller).
---
NEW LETTERPRESS PRINTS


Click on any of the images below to read a full description, see a larger image or purchase the print.





A traditional custom, once widely observed on the Saturday before Septuagesima Sunday, is to bury a sign with Alleluia written upon it, to be disinterred at Easter. I made this small print with this custom in mind, for families that observe it at home.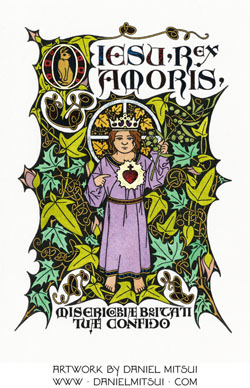 Jesus Christ as the Infant King. The Latin inscription translates to O Jesus, king of love, I trust in Thy merciful goodness.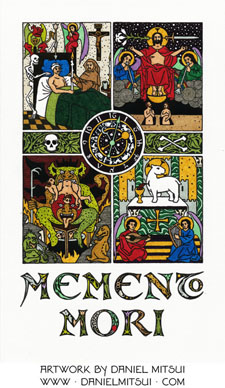 The four last things: Death, Judgment, Heaven and Hell, with the inscription Memento mori.
---
NEW GICLÉE PRINTS
---
NEW TYPEFACES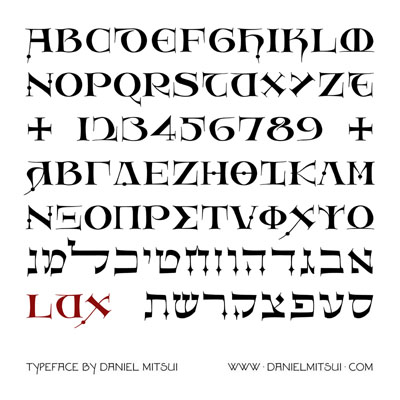 ---
---
The prices quoted in this newsletter do not include shipping. Please review the ordering instructions and general information here.


If you have received this newsletter by mistake, or if you would like to unsubscribe, please reply to this e-mail with a note to remove your name from the list.
---
---



---