http://www.danielmitsui.com/00_pages/current.html

DEAR FRIENDS, PATRONS & BENEFACTORS:


I am starting a new sale on original drawings, which will last through September 8th. All of them are now available for a full quarter less than their usual price. I announced a similar sale last year, which proved popular, so I am thinking to make this a regular summer event. Please e-mail me if you are interested in making a purchase at the discounted price; I am very busy with commissioned work, and have not had time to reprogram all the payment buttons on my website. If you do purchase one of the original drawings through my website at its regular price, I will consider the difference a contribution to support my artwork, and my family.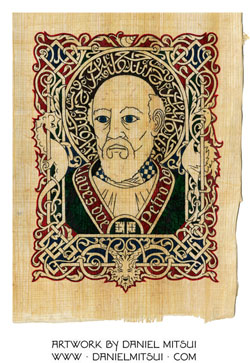 St. Peter the Apostle
Regular price: $814
Sale price: $611





Please also consider the many giclée prints that are available through my website. Sales of these have dropped precipitously in the first half of 2023, which I suppose is due to hard times and scarcity all around. I will note that I set my pricing for these prints in July of 2013; I have not raised it all in the decade since, in the hope of keeping them affordable for people of ordinary means.

As always, benefits for my supporters on Patreon and the patrons of the Summula Pictoria are linked at the bottom of the newsletter.

Yours faithfully,

Daniel Mitsui
July 2023


---
SALE on ORIGINAL DRAWINGS


Click on any of the images below for a full description. E-mail me if you are interested in making a purchase at the discounted price, and be sure to let me know whether it will need to be shipped within the USA or internationally, so that I can figure the actual shipping cost.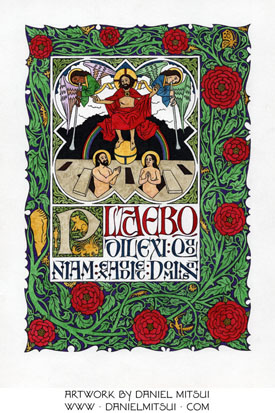 Last Judgment (Pla Ce Bo)
Regular price: $1492
Sale price: $1119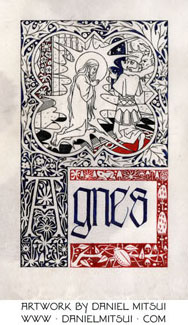 St. Agnes of Rome
Regular price: $840
Sale price: $630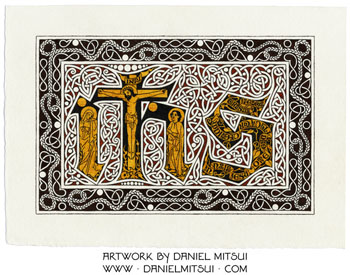 IHS with Crucifixion
Regular price: $674
Sale price: $506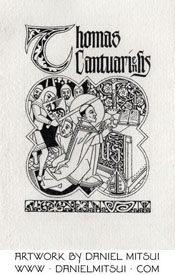 St. Thomas of Canterbury
Regular price: $450
Sale price: $338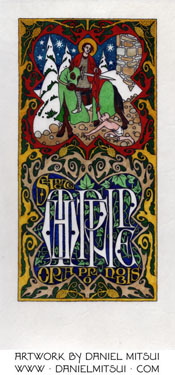 St. Martin of Tours
Regular price: $908
Sale price: $681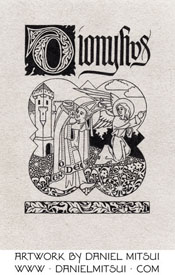 St. Dionysius (Denis)
Regular price: $450
Sale price: $338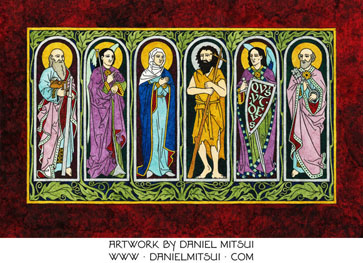 Ss. Paul, Gabriel, Mary, John the Baptist, Michael and Peter
Regular price: $924
Sale price: $693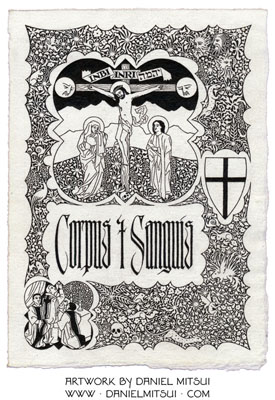 Crucifixion (Corpus et Sanguis)
Regular price: $597
Sale price: $448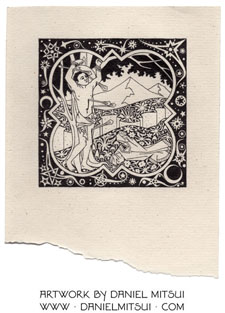 St. Sebastian
Regular price: $405
Sale price: $304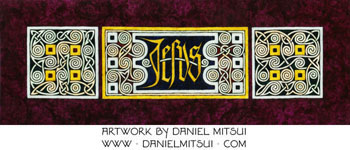 Iesus
Regular price: $544
Sale price: $408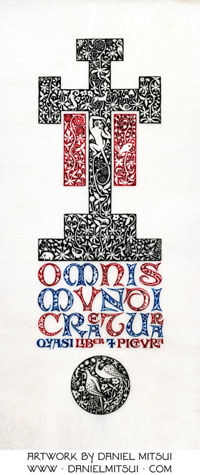 Omnis Mundi Creatura
Regular price: $500
Sale price: $375




Lucas Evangelista
Regular price: $450
Sale price: $338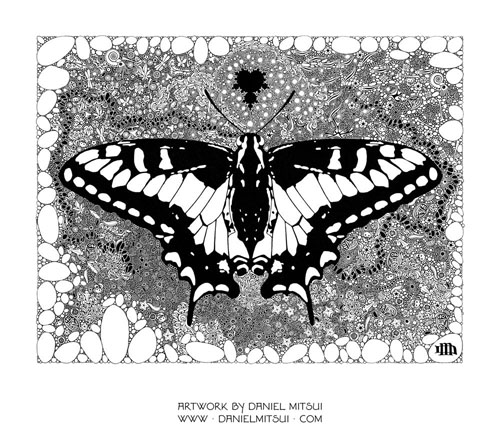 Butterfly #1
Regular price: $1105
Sale price: $829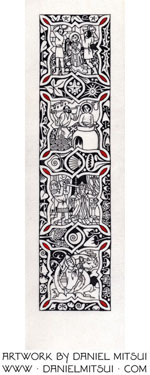 Ss. Stephen, John the Apostle, Thomas of Canterbury, Holy Innocents
Regular price: $450
Sale price: $338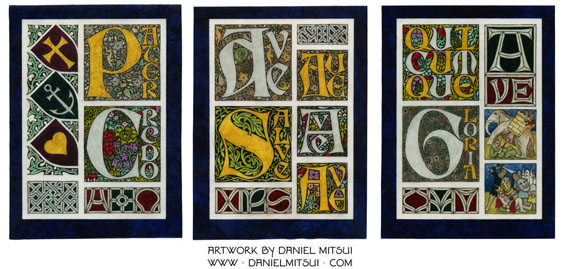 Pater, Credo, Ave, Salve, Quicumque, Gloria
Regular price: $1485
Sale price: $1114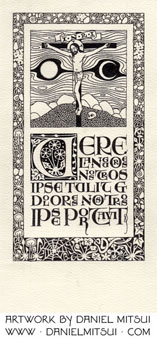 Crucifixion (Vere Languores)
Regular price: $500
Sale price: $375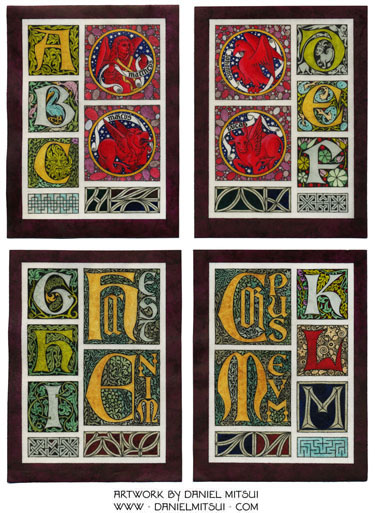 Tetramorphs, Church Fathers, Major Prophets, Alphabet, Hoc Est Enim Corpus Meum
Regular price: $3960
Sale price: $2970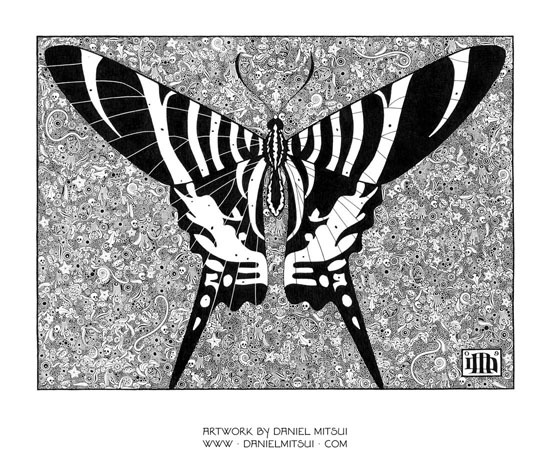 Butterfly #3
Regular price: $1360
Sale price: $1020



Hebrew Alphabet
Regular price: $580
Sale price: $435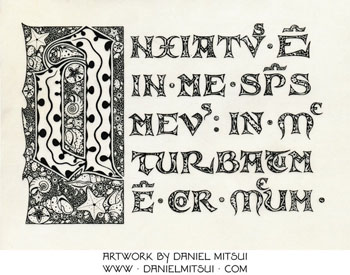 Anxiatus Est
Regular price: $690
Sale price: $518





More original drawings can be seen here.


---
FEATURED TYPEFACE: LUX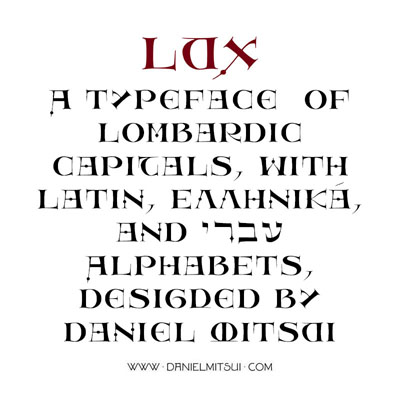 Lux is a typeface of display capitals based on the Lombardic style of lettering that is common in medieval illuminated manuscripts. I named it after my youngest daughter.




The newest version includes Latin capitals, Greek capitals, Hebrew consonants, Arabic numerals, all standard punctuation marks, and the special characters needed to write Albanian, Catalan, Croatian, Czech, Danish, Dutch, Estonian, Finnish, French, German, Hungarian, Icelandic, Italian, Norse, Polish, Portuguese, Romanian, Slovak, Slovenian, Spanish, Swedish, or Turkish.

It can be purchased for $30 here.


---
GICLÉE PRINTS for UPCOMING LITURGICAL FEASTS


St. James the Greater (7/25); St. Christopher (7/25); St. Ann (7/26); St. Æthelwold (8/1); St. Cajetan (8/7); St. Fiacre (8/11); Nativity of the Virgin Mary (9/8); St. Cyprian (9/16); St. Hildegard (9/17).














You can find more color prints available for sale here, and more black & white poster prints here.


---
SUMMULA PICTORIA


I continue to work on the Summula Pictoria, a project that I expect to be my magnum opus of religious art: 244 ink drawings on calfskin, depicting major events in the Old and New Testaments from the Creation to the deaths of the Apostles. I am still looking for patrons for many of the drawings in the series.

Those who cannot commission original drawings can support the project on Patreon. Those who make a monthly contribution receive benefits including the opportunity to purchase any giclée prints from my website at discount: $2/month patrons get 2% off, $5/month patrons get 5% off, and so on, up to 50%. Patrons who commission, or who have already commissioned, original drawings will receive all the benefits included in the top Patreon tier.



For all patrons: Early access to essays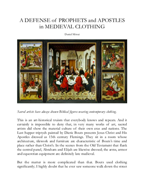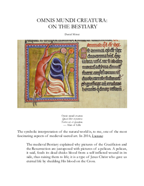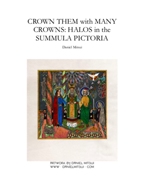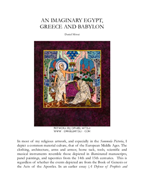 For all patrons: 200 dpi scans of finished drawings









For all patrons: Animations of works in progress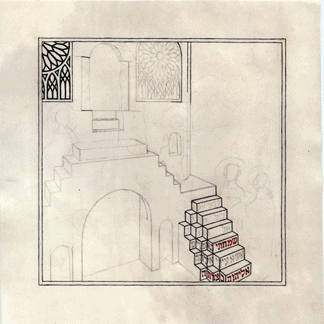 Printable coloring sheets for patrons at the $2/month tier and above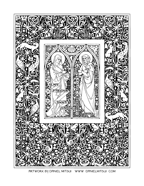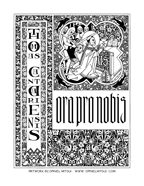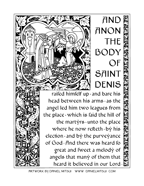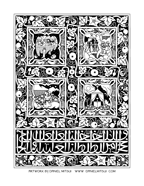 Printable coloring sheets for patrons at the $5/month tier and above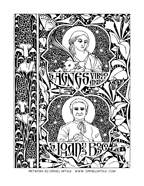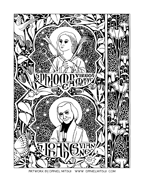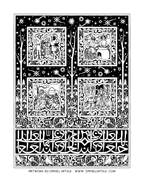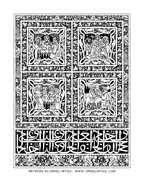 Printable coloring sheets for patrons at the $10/month tier and above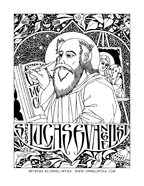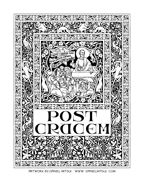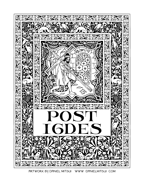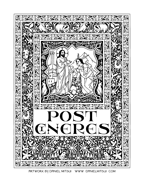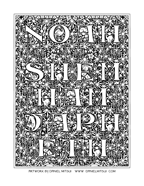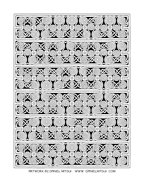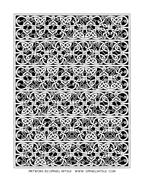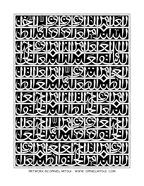 For patrons at the $20/ and $50/month tiers: Printable psalter pages and typeset poetry