E-mail me at danielmistuiartist at gmail dot com to subscribe to this newsletter.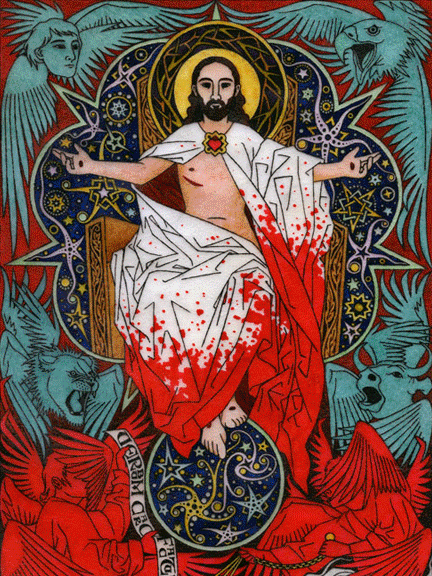 DEAR FRIENDS, PATRONS & BENEFACTORS:
In a few weeks, if all goes well, I shall move for the second time this year, to a permanent home. I shall reestablish my business close to my new home, so please confirm the address before sending me anthing.

Any purchases of drawings or prints this month would be especially appreciated. I hope that there will not be too long of an interruption to my drawing, and that once settled I will finish my outstanding commissions speedily.



Yours faithfully,

Daniel Mitsui
May 2017
---
NEW LECTURE: GOLD out of EGYPT


On 20 April, I delivered a lecture at Hope College in Holland, MI. The talk was sponsored by the St. Benedict Institute. In it, I discussed matters of sacred art, inculturation, nationalism, humanism, Christendom and Romanity. I considered Northumbro-Irish, International Gothic, Japanese and Islamic art in light of these ideas. The text of the lecture can be read at the following link:




My other recent lectures can be found on my website, on the About the Artist page. Videos of some of these can be found on YouTube.
---
RECENTLY COMPLETED DRAWINGS


In the lecture just mentioned, I spoke about the ways I bring influences from different nations and eras into a signature style that remains basically Gothic. However, I am still making some drawings that transpose Gothic compositions into other styles; these help me to learn the peculiar qualities of the other styles. Among those recently completed are a Virgin & Child based on Ming art (begun as a study for my larger Ink Garden drawing); an experiment in the Native American art of the Pacific Northwest (in which I notice curious affinities to Northumbro-Irish calligraphy); and an imitation of 12th century English illustration (done on Egyptian papyrus, for no reason in particular). These three original drawings are available for sale.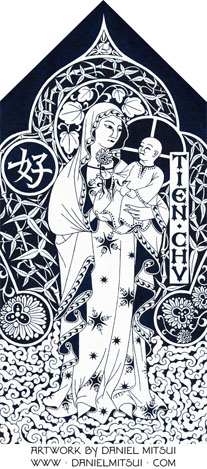 Virgin & Child
4 1/8" × 8 7/8"
Blue ink on paper
$1154

***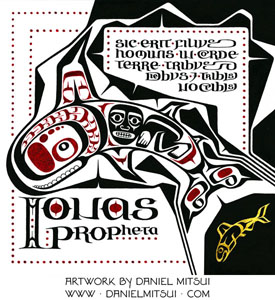 Jonah
5 1/2" square
Black and red ink on paper with gold leaf detail
$756

***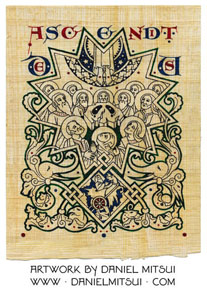 Ascension
4" × 5"
Color ink on Egyptian Papyrus
$553



I drew one recent commissioned work in the Northumbro-Irish style, another in the white-vine style of 15th century Italian manuscripts.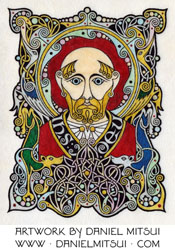 St. Bede
3 1/2" × 4 1/2"
Color ink on goatskin parchment
Private commission

***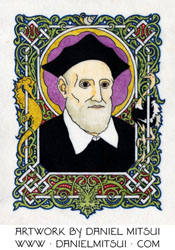 St. Philip Neri
3 1/2" × 4 1/2"
Color ink on goatskin parchment
Private commission


---
UPDATE on SUMMULA PICTORIA


In my previous newsletter, I announced my plans for the Summula Pictoria, an ambitious 14 year project in which I shall draw an iconographic summary of the Old and New Testaments. Since then, I have settled on a list of the drawings included: 40 summarizing the life of Jesus Christ; 124 illustrating the Old Testament; 56 illustrating the lives of the Blessed Virgin Mary, John the Baptist and the Apostles; 13 iconic portraits of holy persons; one of the Last Judgment and one of the Tree of Jesse.

The full list of drawings, with their sizes and the prices for commissioning them, can be read on the new website that I made to explain the project:





I also made a schedule for the research, training, and preparatory design that will occupy me for much of the next two years, before I start work on the 235 drawings themselves.
---
NEW LETTERPRESS BROADSIDE: SACRED HEART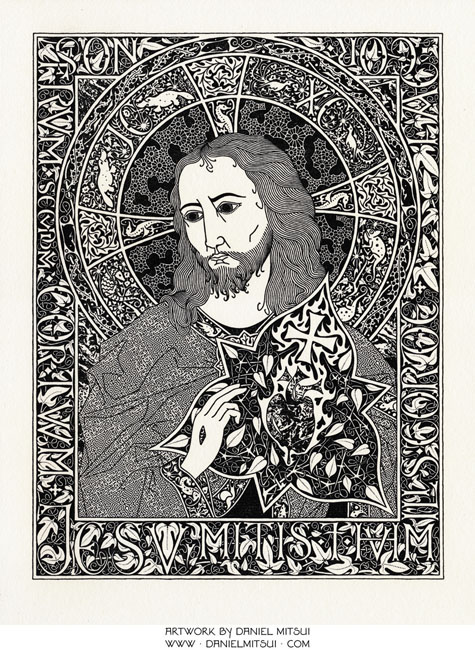 Millefleur Press is my imprint for publishing letterpress broadsides, bookplates and fine press books. I am the exclusive illustrator, designer and typographer; I collaborate with various pressmen, papermakers and bookbinders for its projects. My intention is to create printed works that are not mere reproductions, but works of art in their own right.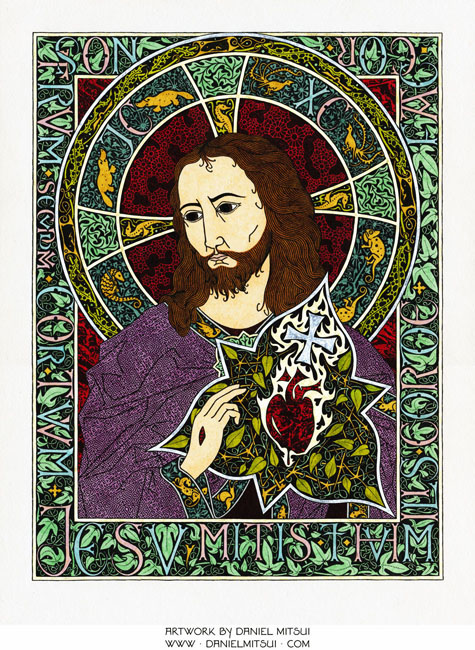 I have issued a new broadside based on my drawings of the Sacred Heart. Only about 30 of these were printed, on a handmade cotton paper with a laid surface. I can color these by hand and add illuminated details with gold and palladium leaf.
---
MORE ORIGINAL WORKS


Click on the images below to read full descriptions of these new works, to see higher-resolution images, or to purchase them.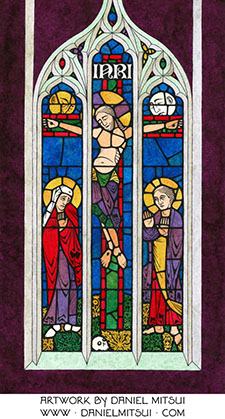 Crucifixion Window
4 1/2" × 7 7/8"
Color ink on paper
$675

***




Sacred Heart
3 3/4" × 7 1/6"
Color ink on calfskin vellum
$990

***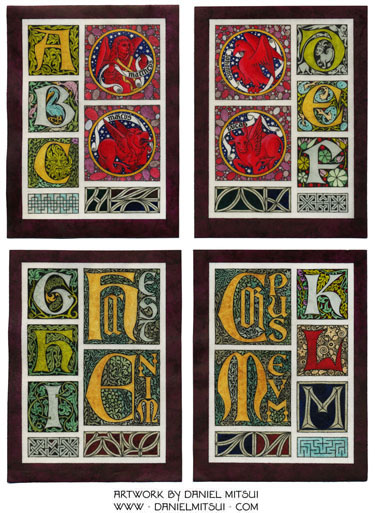 Tetramorphs, Church Fathers, Major Prophets, Hoc Est Enim Corpus Meum and Alphabet
Set of 8 drawings
Each 3 1/2" × 4 5/8"
Color ink on calfskin vellum
$3960 for the set

***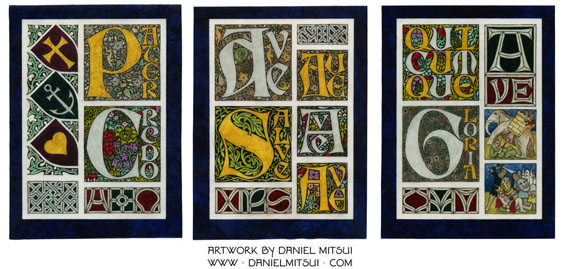 Pater, Credo, Ave, Salve, Quicumque and Gloria
Set of 3 drawings
Each 3 1/2" × 4 5/8"
Color ink on calfskin vellum
$1485 for the set

***




Ecce Agnus Dei
Set of 2 drawings
Each 3 1/2" × 4 5/8"
Color ink on calfskin vellum
$990 for the set

***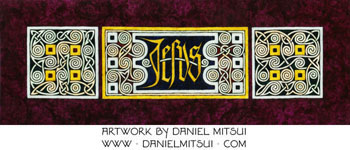 Iesus
2 1/2" × 7"
Color ink on calfskin vellum
$544

***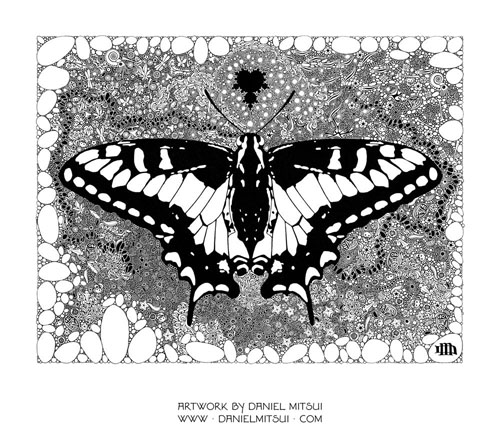 Butterfly #1
10" × 8"
Black ink on paper
$1105

***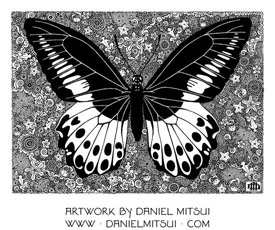 Butterfly #2
5 1/2" × 4 1/8"
Black ink on paper
$370

***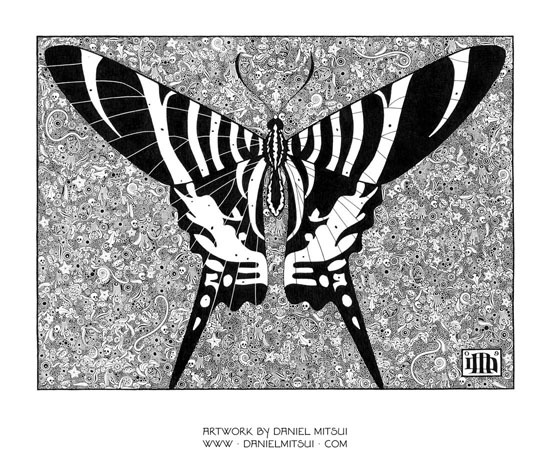 Butterfly #3
11" × 8 1/2"
Black ink on paper
$1360
---
MORE LETTERPRESS BROADSIDES from MILLEFLEUR PRESS
---
MORE GICLÉE PRINTS
---
The prices quoted in this newsletter do not include shipping. Please review the ordering instructions and general information here. If you want to commission new artwork, e-mail me at danielmitsuiartist at gmail dot com.

If you have received this newsletter by mistake, or if you would like to unsubscribe, please reply to this e-mail with a note to remove your name from the list.
---