E-mail danielmitsuiartist at gmail dot com to subscribe to this newsletter.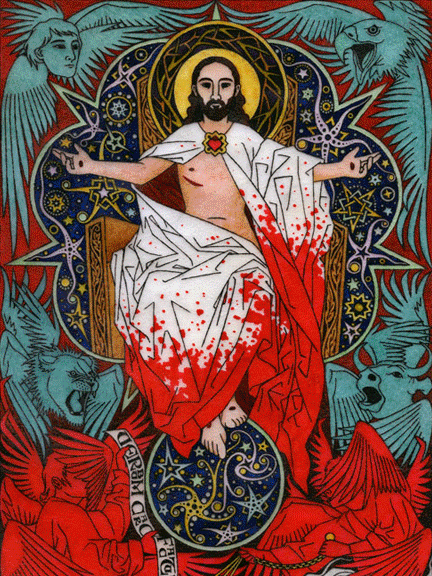 DEAR FRIENDS, PATRONS & BENEFACTORS:
I have several interesting commissions in progress. I plan also to allot myself more time in 2018 to create drawings on speculation: larger and improved versions of some of my favorite past drawings, portraits of special saints and parts of the Summula Pictoria.

If you have any photographs of my artwork in situ - drawings hanging on display, altar cards set up for Mass or finished pages from my coloring books - I would be interested to see and share these. If you have enjoyed one of my coloring books, a review on Amazon or Goodreads would be appreciated.



Yours faithfully,

Daniel Mitsui
February 2017
---
NEW DRAWING: ST. MICHAEL the ARCHANGEL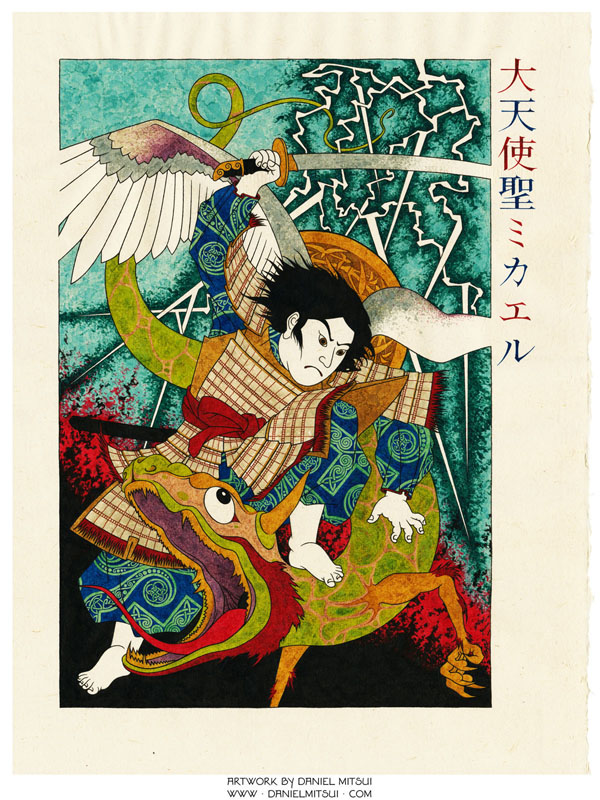 About eight years ago, I received my first commission to draw a Christian subject in the style of traditional Japanese art: St. Michael the Archangel battling the dragon Lucifer. I recently decided to make a new version on translucent washi. I was impressed by the depiction of electrical storms in certain ukiyo-e prints by Utagawa Kuniyoshi, so I worked lightning into the background, referring to the words of Jesus Chrst: I saw Satan like lightning falling from Heaven.

The original ink drawing is for sale for $4641. A giclée print is also available. You can read a full description of this drawing, purchase the original or purchase a print here.
---
NEW DRAWING: ST. JOHN the BAPTIST


There hath not risen among them that are born of women a greater than John the Baptist. Here I drew the Forerunner of Jesus Christ, dressed in camel skins, indicating an emblem of the Lamb of God. The words Ecce Agnus Dei appear in his halo. The locusts in the border decoration refer to the food he ate in the wilderness.

The original ink drawing on calfskin vellum was made on private commission. You can read a full description or purchase a giclée print here.
---
NEW DRAWING: ST. CUTHBERT of LINDISFARNE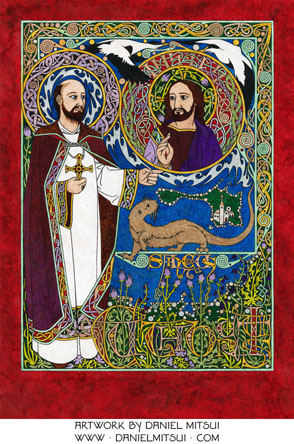 St. Cuthbert was a missionary, abbot, hermit and bishop of the seventh century. Renowned for his asceticism and miracle-working, he would spend entire nights submerged to his neck in the chill surf, reciting psalms. Otters would dry and warm his exhausted body on the beach in the morning. Other beasts and birds, such as the local eider ducks, were said to obey his words. For years, he lived as a hermit on a tiny island near Lindisfarne, before being recalled to become bishop of the diocese.

The original ink drawing on paper was made on private commission. You can read a full description or purchase a giclée print here.
---
NEW BOOKPLATE DESIGNS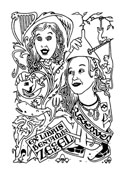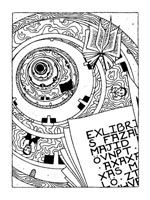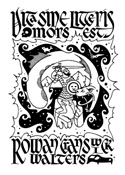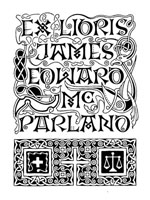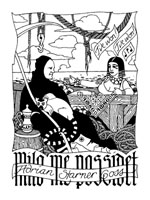 See many more custom bookplate designs here.
---
NEW COLORING SHEETS and OTHER FREE DOWNLOADS


I have made many new printable files available in the free downloads page of my website; these include coloring sheets, patterns for artists and examples of typography.


---
NEW ESSAYS on my WEB LOG


Please visit or subscribe to my web log, where I post short essays about religious art, including the following:

Pictorial Art as an Opportunity for Liturgical Design

A Defense of Prophets and Apostles in Medieval Clothing

On Drawing Stars, Ideas of Preciousness and Russian Lacquered Boxes

Can I Really Make a Living at This? (Part 1 of 3)
---
ORIGINAL DRAWINGS for SALE
---
ALTAR CARDS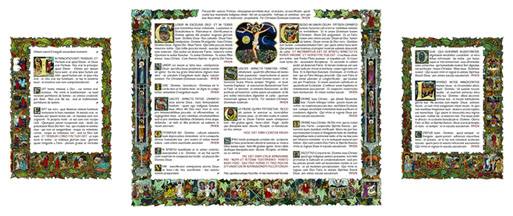 ---
LETTERPRESS BROADSIDES from MILLEFLEUR PRESS
---
COLORING BOOKS
---
GICLÉE PRINTS






See these and many more giclée prints at the pages of my website dedicated to Religious Artwork and Biological Artwork.
---
The prices quoted in this newsletter do not include shipping. Please review the ordering instructions and general information here.

If you have received this newsletter by mistake, or if you would like to unsubscribe, please reply to this e-mail with a note to remove your name from the list.
---
---




---