COR IESU
DRAWING by DANIEL MITSUI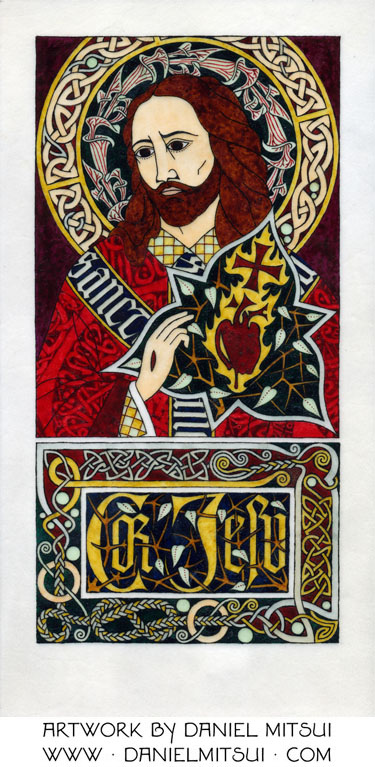 This is an ink drawing on a 3 3/4" × 7 1/6" piece of calfskin vellum. I drew it using calligraphers' inks applied with metal-tipped dip pens and brushes.

In all of my recent drawings of the Sacred Heart, I have determined to reconnect this devotion to its early expressions in the visions of St. Gertrude, and to create an image with the vigor and precision of late medieval art. The 1467 Sanctus Salvator engraving by the Master E.S. is the most obvious artistic influence on the figure of Christ in my drawing.

The Sacred Heart itself, in its oldest depictions, is flat, simple and symmetrical. Later artists gave it more dimension and detail, but without making it accurate anatomically. Their result, I think, is artistically disastrous. Here, I have done the opposite: I started with the shape of a real heart, and reduced that to a stylized emblem.

I placed the emblem within a frame shaped as an ogee trefoil intersecting with an equilateral triangle. This is meant to suggest the triple invocations to the Holy Trinity and the triple petitions in the Kyrie Eleison that begin the Litany of the Sacred Heart. The Crown of Thorns fills the entire space beteween the edge of the heart and the frame.

Christ's halo includes knotted patterns in a Nothumbro-Irish style, and the leaves of pitcher plants. His chasuble is Gothic in style, but with an Oriental fabric pattern. The calligraphic treatment of Cor Iesu combines blackletter script with more thorns and Nothumbro-Irish patterns.


---

The original drawing is available for sale for $900. You may use the button below to pay via PayPal, debit card or credit card. Be sure to confirm the shipping address.



See this page for additional ordering instructions and general information. If you want to pay via a check or money order, please e-mail me at danmitsui [at] hotmail [dot] com.