MYSTERIES of the ROSARY
A COLORING BOOK by DANIEL MITSUI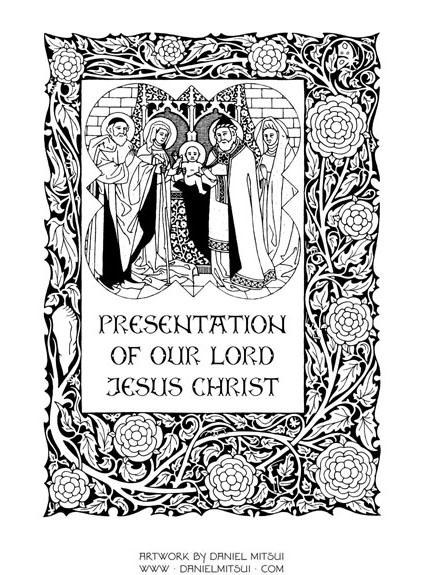 Mysteries of the Rosary: An Adult Coloring Book was published by Ave Maria Press in 2016. It measures 8 1/2" × 11" and contains thirty coloring pages: reproductions of three larger drawings of the Joyful, Sorrowful and Glorious Mysteries; fifteen pages with individual mysteries surrounded by decorative or symbolic borders; and detail images of the four Major Prophets, the four great Latin Church Fathers and the four winged creatures representing the Evangelists.

You can purchase a signed copy of the coloring book from me for $9.95. I am only able to sell signed coloring books within the USA.



This is my introduction to the book:
Catholic tradition maintains that the Rosary of the Blessed Virgin Mary was given to St. Dominic by the Blessed Virgin in the thirteenth century. The devotion became especially popular in the late fifteenth century, following the preaching and writing of the Dominican Alanus de la Roche. The first Rosary Confraternities were founded, and the first devotional books dedicated to the Holy Rosary were circulated. These included both illuminated manuscripts and books made on the newly-invented printing press.

By that time, the Holy Rosary had attained its familiar modern form: 150 recitations of the Ave Maria, divided into 15 decades, each preceded by a recitation of the Pater Noster. Each decade was associated with an event in the life of Jesus or Mary. The selection of events varied somewhat; for example, some of the faithful prayed the Last Judgment as the final mystery, others the Coronation of the Blessed Virgin. Certain works of art from the late fifteenth century illustrate events that correspond exactly to the now-familiar Joyful, Sorrowful and Glorious Mysteries.

This coloring book is formatted to resemble one of the early devotional books dedicated to the Holy Rosary. A German volume printed in 1483, which surrounds each illustrated Mystery with a border of ten roses, was an especially strong influence on its design.

The illustrated mysteries are taken from a series of three large (9" × 12") drawings that I made in 2011. The original works I drew in ink of calfskin vellum; these are now held in a private collection. Many of the decorative borders and ancillary pictures are taken from other drawings, rearranged into the compositions here in the manner of printers' blocks; all of the artwork originally came from own hand.

DM


See this page for additional ordering instructions and general information. If you want to pay via a check or money order, please e-mail me at danielmitsuiartist at gmail dot com.