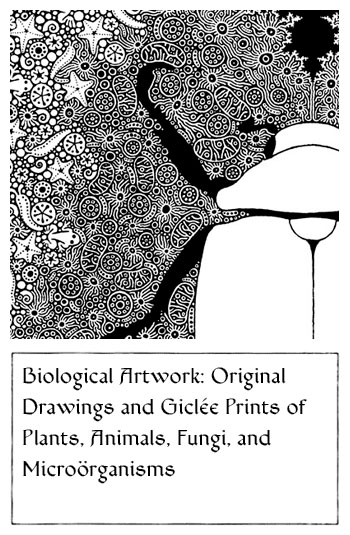 My biological drawings typically include densely detailed backgrounds composed of tiny creatures and cell organelles. All of them are drawn by hand.

Drawings and prints may be purchased using the buttons below. Please review the ordering instructions and general information. If you want to commission new artwork, e-mail me at danielmitsuiartist at gmail dot com.

ORIGINAL DRAWINGS for SALE
LETTERPRESS BROADSIDES from MILLEFLEUR PRESS
OPEN EDITION GICLÉE PRINTS
ORDERING INSTRUCTIONS & GENERAL INFORMATION


---
ORIGINAL DRAWINGS for SALE
The drawings below I made using black technical pens and black calligraphers' ink applied with brushes on Bristol board.

Butterfly #1
10" × 8"

$1105



Butterfly #3
11" × 8 1/2"

$1360


---
LETTERPRESS BROADSIDES from MILLEFLEUR PRESS
Millefleur Press is my imprint for publishing letterpress broadsides, bookplates & fine printed books inspired by the incunabula & blockbooks of the 15th century.

The following broadsides were printed on a Heidelberg windmill or a Heidelberg cylinder press at Rohner Letterpress (Chicago, IL). Graphic Chemical & Ink (Villa Park, IL) supplied a traditional printing ink made from linseed oil & furnace black. The paper is Reich Savoy text-weight cotton.

Sweetpea

5 1/2" × 8 1/4" broadside


$17 each


Sweetpea

Hand-colored


$260 each

---
OPEN EDITION GICLÉE PRINTS
Giclée prints are made on a spray-jet printer from a high-resolution digital scan or photograph. They are printed on acid-free paper (usually Hahnemühle Photorag 308 or Hahnemühle German Etching 310) with Epson Ultrachrome pigmented inks that have been rated for lightfastness to approximately 80 years under good conditions.

Vine Leaves
5" × 7"

$33 each



Butterfly #2
5 1/2" × 4 1/8"

$21 each



Butterfly #3
11" × 8 1/2"

$88 each



Plum Blossoms
3 1/4" × 4 1/4"

$13 each



Scarab
5" × 7"

$33 each



Tree Frog
4" × 5 1/2"

$21 each