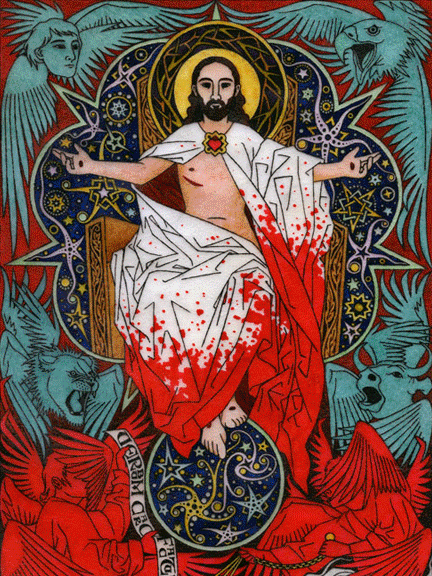 DEAR FRIENDS, PATRONS & BENEFACTORS:


I received a kind invitation from Franciscan University in Steubenville to exhibit my artwork on campus. The show opens on Monday 14 September; that evening at 7:00, I shall deliver a lecture in the Gentile Gallery. The event is free and open to the public. The following day I shall spend visiting the University's art classes.

On the evening of Wednesday, 16 September, I am scheduled to speak at the Young Adults' Group meeting at Old St. Mary Church in Cincinnati. Adoration and prayer begin at 7:00; my talk will follow. This, too, is free and open to the public.

My wife and children will be travelling through Indiana and Ohio with me. We are looking forward also to visiting family and friends and to exploring the medieval collection at the Cleveland Museum of Art.

Yours faithfully,

Daniel Mitsui
September 2015
---
NEW DRAWINGS: ST. MICHAEL, ST. LUCY & ST. ALOYSIUS


This suite of three small drawings was commissioned by paleontologists; hence the border ornaments of sea creatures commonly encountered as fossils. The first depicts St. Michael the Archangel thrusting Satan into hell. The second depicts St. Lucy, a virgin martyr of the early fourth century who was miraculously preserved from harm when her persecutors attempted to burn her alive. She died when stabbed through the throat. The third depicts St. Aloysius Gonzaga, a Jesuit of the late sixteenth century who died shortly before his ordination, from a plague contracted while nursing the sick. Pope Bencict XIII named him the patron saint of young people.

Open-edition giclée prints of these can be ordered here, here and here. I modified the colors when creating the print files (shown above); the original drawings are black and white.
---
MILLEFLEUR PRESS
Millefleur Press is my imprint for fine press books, letterpress broadsides and bookplates. I have issued four new broadsides since my last newsletter. Approximately 200 of each were printed on a Heidelberg cylinder press at Rohner Letterpress (Chicago, IL). Graphic Chemical & Ink (Villa Park, IL) supplied traditional printing inks. The paper is text-weight Reich Savoy, which is 100% cotton and archival. The editions are open.


NEW BROADSIDE: AND RISING / FOR I RECEIVED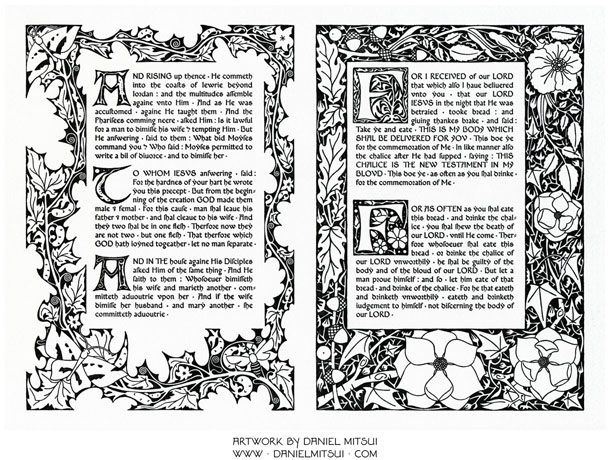 The texts on this 12" × 8 1/2" broadside are taken from an early translation of the New Testament into English, that published at Rheims in 1582. On the left page is a portion of the Gospel of St. Mark, the first twelve verses of its tenth chapter. On the right page is a portion of St. Paul's First Letter to the Corinthians, the twenty-third through twenty-ninth verses of its eleventh chapter. The typeface is Millefleur Benedict, which I designed myself.




Each broadside costs $39, or $529 if I color it by hand and add gold and palladium leaf. It can be ordered here.


NEW BROADSIDE: PATER NOSTER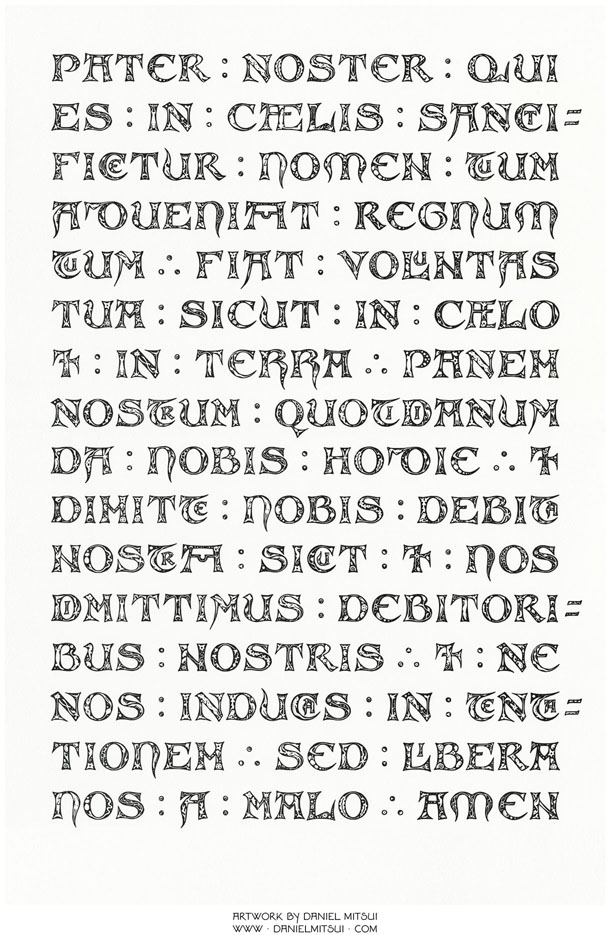 This broadside measures 12" × 18". Its text is the Lord's Prayer (Our Father who art in heaven &c) in Latin, set in Millefleur Victor, a typeface that I designed myself. Its letters have the basic shapes of capitals that appear in medieval manuscripts, paintings and tapestries. Their outlines are filled with tiny decorations: plants, fungi, beasts, birds, bugs and fish.




Each broadside costs $82, or $683 if I color it by hand. It can be ordered here.


NEW BROADSIDE: ST. ALBERT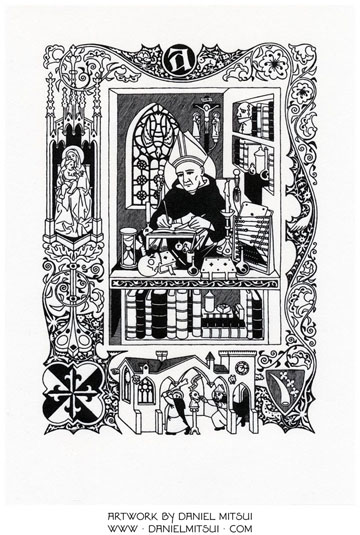 This 7" × 10" broadside depicts St. Albert the Great, a 13th century Dominican friar, bishop, philosopher and natural scientist. I drew the saint seated at his desk, writing, surrounded by his books, bottles, instruments of calculation and devotional objects.

The ornamental border contains flowering vines, tiny plants and animals, a Gothic monstrance holding an image of the Virgin Mary and Christ Child, the arms of the Order of Preachers in a quatrefoil and the saint's family arms on a shield. In the bas-de-page I illustrated an old story told of St. Albert: he spent decades inventing a mechanical head that answered questions posed to it. St. Thomas Aquinas, either annoyed or frightened by the automaton, smashed it to pieces.




Each broadside costs $26, or $426 if I color it by hand and add gold and palladium leaf. It can be ordered here.


NEW BROADSIDE: SECOND DREAM of ST. JOSEPH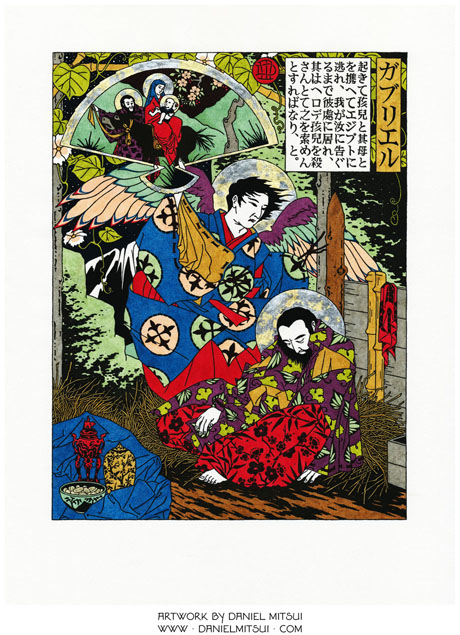 This depicts the second dream of St. Joseph, in which St. Gabriel warns him to flee into Egypt with the Blessed Virgin Mary and the Christ Child. In this work, I imitated the style of Tsukioka Yoshitoshi, a late ukiyo-e master. The archangel holds a fan containing a vision of the Flight into Egypt and the Miracle of the Cherry Tree. The print measures 9" × 12".




Each broadside costs $41, or $714 if I color it by hand and add gold and palladium leaf. It can be ordered here.


---
NEW SMALL DRAWINGS & CUSTOM BOOKPLATES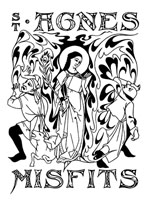 See more custom bookplates here.
---
OTHER ITEMS for SALE
If you want to purchase a drawing or print, either e-mail me or visit my website; this page has a full list of available drawings and prints, and buttons for paying via PayPal, credit card or debit card.
ORIGINAL ARTWORK
MILLEFLEUR PRESS: OPEN EDITION BROADSIDES
MILLEFLEUR PRESS: UNIVERSAL BOOKPLATES
OPEN EDITION GICLÉE PRINTS
---
The prices quoted in this newsletter do not include shipping.

If you have received this newsletter by mistake, or if you would like to unsubscribe, please reply to this e-mail with a note to remove your name from the list.