NEWSLETTER ~ JULY 2014
DEAR FRIENDS, PATRONS & BENEFACTORS:
I have been working to improve my calligraphy & gilding. I recently purchased new equipment & materials, took a few private lessons, and spent nearly the entire month of May practicing lettering. I am preparing to complete in the coming months a large commission requiring about 1600 calligraphed words, and hope that the improvements in technique will find useful application in almost all of my future drawings.

Yours faithfully,

Daniel Mitsui

P.S. The prices quoted in this newsletter do not include shipping.

P.P.S. If you have received this newsletter by mistake, or if you would like to unsubscribe, please reply to this e-mail with a note to remove your name from the list.
---
NEW ORIGINAL DRAWINGS
Open-edition giclée prints of all of these drawings are available and can be ordered online here or at the individual web pages linked below.
ST. JULIAN the HOSPITALLER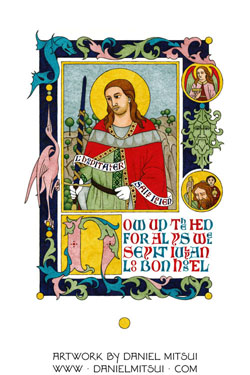 I was requested to draw St. Julian in an Italian style, a departure from my usual northern European influences. For the central portrait, I looked to trecento paintings by Taddeo Gaddi & his son Agnolo for inspiration. The color & design of the acanthus ornament & drolleries I based on illuminated choir manuscripts of the same era. Small medallions in the border house pictures of St. Raphael & St. Christopher. Read more here.
WEDDING at CANA


This is the fifth commission I have received to transpose traditional subjects from medieval European art into the style of Japanese woodblock prints. Paintings by Hinrik Funhof, Hieronymus Bosch & Bertram von Minden were among the occidental works that influenced the content & arrangement. The images on the jars and on the folding screens illustrate the theological significance of the Wedding at Cana. Read more here.
AVE MARIS STELLA


This drawing includes the beginning words & neumes of the vesperal hymn that salutes the Virgin Mary as Star of the Sea. In keeping with the nautical symbolism of the hymn, the frame surrounding the picture of Mary & the Christ Child is composed of seashells, and the initial A is composed of sea creatures. I was inspired by the figurative blackletter alphabets created by the Master E.S. & Giovannino de'Grassi. Read more here.
ST. JULIANA of LIEGE


This drawing was commissioned by a pious confraternity to commemorate the 750th anniversary of the institution of the Feast of Corpus Christi. St. Juliana of Liège was a 13th century Premonstratensian canoness regular who experienced a mystical vision of the full moon with a dark blemish, representing the lack in the liturgical year of a feast especially in honor of the Holy Eucharist. Read more here.
---
NEW from MILLEFLEUR PRESS
Millefleur Press is my imprint for publishing letterpress broadsides, bookplates & fine printed books inspired by the incunabula & blockbooks of the 15th century.
GOLD & PALLADIUM LEAF on HAND-COLORED BROADSIDES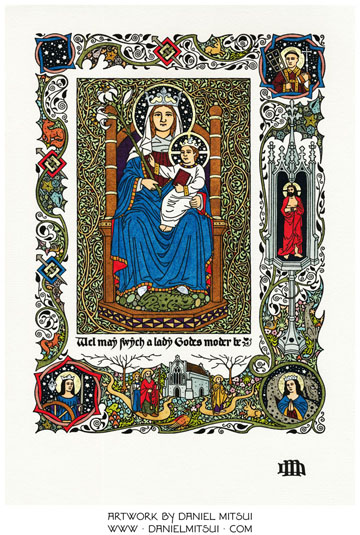 Having learned an improved gilding technique, I am now selling my hand-colored broadsides with details illuminated with 23k gold leaf & palladium leaf.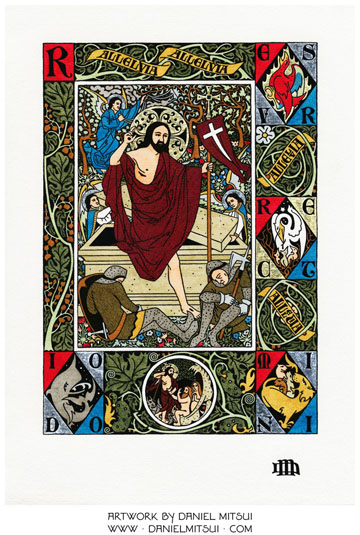 These broadsides were printed on a Heidelberg Windmill press at Rohner Letterpress (Chicago, IL). Graphic Chemical & Ink (Villa Park, IL) supplied a traditional printing ink made from linseed oil & furnace black. The paper was handmade from cotton rag pulp at Twinrocker Handmade Papers (Brookston, IN). It is a laid paper, which means that it has a slight ribbed texture from the wires in the papermaking mould.

I color them by hand, using calligraphers' inks applied with tiny paintbrushes.




The burnished gold & palladium leaf add real brilliance to these works. Unfortunately, the shine of the leaf does not show well in scanned images.
NEW UNIVERSAL BOOKPLATES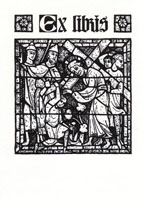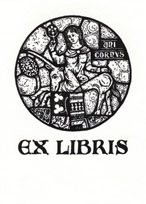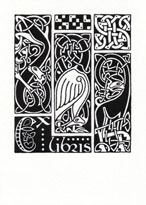 These letterpress bookplates have blank spaces where a name can be written, so they can be used by anyone. They were printed on a Heidelberg cylinder press at Rohner Letterpress (Chicago, IL), using Van Son vegetable oil-based black ink on Reich Savoy cotton text-weight paper. They measure approximately 3" x 4".

The first depicts the Way of the Cross in the style of a medieval stained glass window. The second, in the same style, depicts the Capture of the Unicorn as an allegory of the Incarnation. The third has patterns & lacertines resembling those in Northumbro-Irish manuscripts.

These bookplates cost $5 for a package of 10 and can be ordered online here.
TYPEFACE DESIGN


The calligraphic script that I am working to master will also be the basis for my first typeface. I have almost finished designing the glyphs. I hope to create something that marries well to my medieval-styled illustration but is legible to modern eyes, and thus have looked for inspiration to 15th century Italian half-roman (gotico-antiqua) typefaces.

Having a workable typeface of my own design will make it possible for me to begin more ambitious projects for Millefleur Press, incuding complete illustrated books. This is my real ambition, and I shall write more about it in the next newsletter.
---
NEW CUSTOM BOOKPLATES


See more custom bookplates here.
---
ITEMS for SALE
If you want to purchase a drawing or print, either e-mail me or visit my website; this page has a full list of available drawings & prints, and buttons for paying via PayPal, credit card or debit card.
ORIGINAL ARTWORK

Butterfly 3
$1360

Butterfly 1
$1105

Ave Maris Stella
$500

Scarab
$480

Butterfly 2
$370

Aqua Sapientie
$200

Olives Bookplate
$174

Critters Bookplate
$174

Maze Bookplate
$174

Gloria
$80
MILLEFLEUR PRESS

Walsingham
broadside
$53

Resurrection
broadside
$53

Walsingham
broadside
hand-colored with
gold & palladium
$453

Resurrection
broadside
hand-colored with
gold & palladium
$453

St. Ann bookplate
$6 for 10

Maze bookplate
$6 for 10

St. Francis bookplate
$6 for 10

Rosary bookplate
$6 for 10

Persian Garden
bookplate
$6 for 10

Rhamphorhynchus
bookplate
$6 for 10

Letters
bookplate
$6 for 10

Unicorn
bookplate
$5 for 10

Lacertines
bookplate
$5 for 10

Via Crucis
bookplate
$5 for 10
OPEN EDITION GICLÉE PRINTS
Giclée prints are made on a spray-jet printer from a high-resolution digital scan or photograph. Acid-free heavy rag paper is the substrate.



Stations of the Cross
$462 for 14

Last Judgment
$144

Bd. David Gunston
$122

Christ in Majesty
$114

ICXC NIKA
$114

Virgin of Perpetual Help
$101

Adoration of the Magi
$90

Adoration of the Trinity
$90

Tonsure of St. Peter
$90

Wedding at Cana
$88

Christ the High Priest
$88

Last Supper
$88

Presentation
$88

Pentecost
$88

Crucifixion
$88

Butterfly #3
$88

Nativity of Our Lord
$75

Battle in Heaven
$75

St. Elizabeth of Hungary
$75

Chi-Rho Mongram
$75

St. Raphael
$75

St. Joan of Arc
$75

St. Columba
$45

Christo Gloria
$45

St. Juliana of Liege
$33

Virgin & Child
$33

St. Albert
$33

St. Fiacre
$33

Vine Leaves
$33

Sweetpea
$33

Scarab
$33

Mystical Unicorn Hunt
$33

St. Julian the Hospitaller
$33

Ave Maris Stella
$27

Four Last Things
$23

Baptism of Christ
$23

Ecce Quam Bonum
$21

Butterfly #2
$21

Tree Frog
$21

St. Patrick
$15

Small Annunciation
$15

Small Virgin & Child
$15